3D glasses health hazard
By Dhananjani Silva
View(s):
3D cinemas are a big hit in Sri Lankan movie-going culture but are audiences risking their health? A recent crackdown by Colombo Municipal Council Public Health Department officers has raised concerns over 3D glasses handed out to audiences.
CMC Chief Medical Officer of Health Dr. Ruwan Wijayamuni said that when 18 cinemas in Colombo, including 3D centres were checked for health, sanitary conditions, food hygiene and safety, poor maintenance of 3D glasses was detected among other problems such as
inadequate ventilation inside the cinemas, collection of dust, non-sterile surfaces with fungi and moisture, poor quality of washrooms etc.
Bacterial and viral eye infections such as conjunctivitis that are spread through contact could be transmitted through unclean 3D glasses, said National Eye Hospital consultant eye surgeon Dr. Kapila Bandutilake.
Unclean glasses could also cause fungal skin infections in areas close to the eye, he said. Dirty and scratched glasses could cause headaches and eye strain.
The accepted norm is that 3D glasses should be thoroughly washed using high-pressure water spouts, with the use of a 3D spectacle washer and a dryer, Dr. Wijayamuni explained.
The glasses have to be cleaned with soap to take off oil and dirt, dried properly and subjected to UV rays for five to 10 minutes to kill bacteria. This done, the glasses have to be re-packed in polythene before being storing in boxes to be given out to audiences again.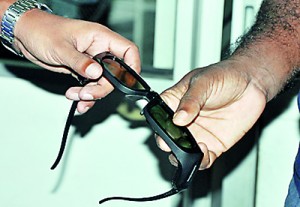 The Sunday Times has learned that 3D spectacle washers in the cinemas were malfunctioning and those in charge had claimed to health inspectors that they were awaiting machines ordered from abroad.
"They also have to have enough number of spectacles – ideally two sets – if they are to follow the proper cleaning procedure, rather than re using the same set of glasses over and over again," Dr. Wijayamuni stressed.
He said cinema owners have been given two months to rectify problems.
CMC Chief Food Inspector M.B. Lal Kumara, who was present at the raid, confirmed that about six complaints about the glasses had been received, two of them from foreign nationals.