Critical constraints to achieving higher economic growth
View(s):

Macroeconomic imbalances of fiscal and trade deficits, foreign debt, an anti-export bias, uncertainty in economic policies and educational inadequacies are critical constraints hampering a higher rate of economic growth, according to Dr. Indrajit Coomaraswamy who gave the recent South Asian Policy Research Institute (SAPRI) lecture on "Prospects for Middle Income Sri Lanka: Challenges & Opportunities".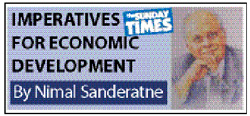 Among a whole range of issues of relevance for economic development that Dr. Coomaraswamy discussed, he considered consistency and predictability of economic policies of foremost importance for economic development. "What was wanted above all by investors was consistency and predictability of policies. That is the No. 1 item. Of course, they also want macroeconomic stability; they like a nice tax environment but above all they want predictability and consistency of policies".
He observed that there has been a whole spectrum of development strategies from state capitalism to market economies that have delivered good outcomes, but "in a country with a fiscal deficit and debt profile like Sri Lanka's, it is not possible to get much mileage out of state capitalism simply because the state does not have sufficient resources."
In contrast, a country like China has the financial strength for state capitalism to be more successful as its budgetary outcome is robust, debt is only 30 per cent of GDP and external reserves exceed US$ 3 trillion. "They have the fire power for the State to be a very strong economic actor. Our debt is 79 per cent of GDP. Even when compared with countries having the same rating, we are significantly higher than the median of 44 per cent." Therefore he argued Sri Lanka's capacity for state-led development was limited.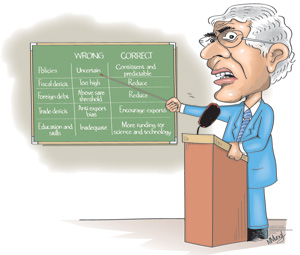 Dr. Coomaraswamy stressed that "there isn't a contradiction between a strong developmental State and a vibrant private sector. They can work side by side. All over South East and East Asia, you see this happening. However, there must be clarity on what the State is going to do and what the private sector is going to do…. predictability and consistency of policies are of paramount importance. As long as the policy framework is clear, then people can plan and invest."
There is no doubt that the lack of clarity and certainty in economic policies and fears of state intervention and the takeover of private enterprises have discouraged foreign and domestic investment in post-war years. There must be clear limits on what the state would do and what is left for private enterprise for increased domestic and foreign investment.
Fiscal deficit
Large fiscal and trade deficits have been a core weakness of the Sri Lankan economy. Dr. Coomaraswamy said, "The Budget deficit has been the cancer in the system." He pointed out that large fiscal deficits have "made Sri Lanka an economy, which is characterised by high budget deficits that pump excess demand into the system causing high inflation that discourages savings needed for investment." Furthermore if the rate of inflation is higher than that of competitors and trading partners, the exchange rate comes under pressure as domestic costs rise faster and there is a loss in competitiveness.
Successful countries
Drawing on his international experience, Dr. Coomaraswamy said, "Sri Lanka has done diametrically the opposite of what the successful countries in East and South East Asia have done. Those countries had robust fiscal outcomes, low inflation, low interest rates and undervalued as well as competitive exchange rates. Sri Lanka did the opposite as a result of unsustainable budget deficits which pumped excess demand into the economy. When there is excess demand in the economy, there is also a higher propensity to suck in imports and that, in turn, exerts pressure on the balance of payments."
Foreign debt
He stressed the point repeatedly made in these columns that foreign borrowing must create the capacity to earn or save foreign exchange to repay the money and yield a return to the country. "It is a matter of concern that one is not seeing the export growth or improvement in the trade balance necessary for this."
He commented that although the total debt-to-GDP ratio of about 79 per cent was lower than what it has been that we are now borrowing at 6 per cent and sometimes at 9 and 10 per cent when it is money coming into the Treasury debt instruments. Furthermore, the share of external debt in total debt has increased, the share of commercial debt has increased and the share of short-term debt has increased. In his view we are certainly not in the red light zone nor near a crisis but in an amber light zone: a time for caution.
Dr. Coomaraswamy observed: "Often it is said that we have reserve cover of over 4 or 5 months worth of imports. But that is not the best index, in my view, particularly when there is exposure to international capital markets. There is another index called the EVI (the External Vulnerability Index) which looks at the ratio between the liabilities of the country over the next 12 months and its gross reserves. The comfortable level is 100%. Our liabilities are 125% of our reserves. This is not a crisis level but the amber light is flashing."
Education, training and skills
Dr. Coomaraswamy quite rightly emphasised education, training and skills development as a critical strategic challenge. He pointed out that although Sri Lanka had been successful in terms of the first generation outcomes of coverage and access to primary and secondary education, the human capital that we produce is inadequate to sustain 8 per cent economic growth for which we need more mathematics, science, English and information technology training.
"The strategic challenge is to align the comparative advantage of the country, the labour market and education, training and skills development much better. Given the current fiscal constraints, public expenditure on education is getting squeezed, particularly as there is this, a much needed focus on infrastructure. "
Way forward
Bringing down the fiscal and trade deficits, reducing the foreign debt, increasing exports, developing scientific and technical education and fostering an economic policy environment of certainty and predictability are key strategies for accelerating the country's growth momentum.