'Thanha Rathi Ranga' goes to Montreal Film Fest
Canadian Premiere for Nilendra Deshapriya's film
View(s):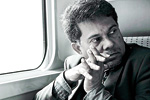 Nilendra Deshapriya's acclaimed maiden film 'Thanha Rathi Ranga' (Between Yesterday and Tomorrow) will have its Canadian premiere at the prestigious Montreal World Film Festival held from August 21 to September 1. The film will be presented at the MWFF under the section of "Focus On World Cinema".
Founded in 1977 MWFF is one of Canada's oldest international film festivals and the only competitive film festival in North America accredited by the International Federation of Film Producers Associations (FIAPF). This year it would be dedicated to the memory of Gabriel García Márquez who died earlier this year. 'Thanha Rathi Ranga' will be released in the EAP Film circuit around the country from first week of November 2014.
Starring Sarath Kothalawala, Kumara Thirimadura, Namal Jayasinghe, Sulochana Weerasinghe, Dayadewa Edirisinghe, Swarna Mallawarachchi, Anoja Weerasinghe, Nita Fernando, Kamal Addararachchi and Adam Adamally the film won the award for the Best Film at the Saheb Phalke Film Awards, in India. A road movie about a country where a 30-year old civil conflict has brutalized the psychology of its people, making it utterly impossible to promote peace, the film revolves around three friends who are deeply connected despite their differences and inner conflicts to realize their dream of visiting a land that was long restricted which had to be explored.