Rutnam honoured at Madrid
View(s):

Filmmaker and producer of internationally famed Chandran Rutnam, whose film won three main awards at last year's Madrid International Film Festival (MIFF), he received a special honour by inviting to make the opening address of the festival and to accept the award personally.

The film, starring Sir Ben Kingsley, Ben Cross, James Koch, Patrick Rutnam, Dushyanth Weeraman,Sumaya Siriwardena  and Jerome De Silva, won three of the main awards, Best Feature Film, Best Actor and the Best Director Awards at the Madrid IFF in 2013.The Best Actor was Sir Ben Kingsley and the Best Director was Chandran Rutnam. The Film was produced by Manohan Nanayakkara for Asia Digital Productions Ltd.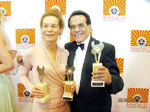 The award was a rare treat for the filmmaker who had dedicated his life to both local and international cinema. In Asia the Best Director award at a main competition category of an international film festival had earlier been won by India's great filmmaker Satyjit Ray more than fifty years ago.
Mr. Rutnam was unable to attend the festival awards ceremony in Madrid last year, since he was shooting his latest movie 'According to Matthew' and the Festival Officials invited Mr. Rutnam to attend the Festival as a guest, to personally accept his award and to make the opening address of the Award Ceremony on July 19.
'A Common Man' had its American premiere at the prestigious Music Hall cinema, in Beverly Hills, California last year and since then the film has been distributed in most of the European countries by the distribution company, Myriad Pictures of Hollywood. It has been subtitled in the languages of Norway, Denmark and Sweden and has been dubbed in German and other languages and has also been on numerous satellite channels.