Pegasus Reef: Solution for all banquet needs
By Sanath Weerasuriya
View(s):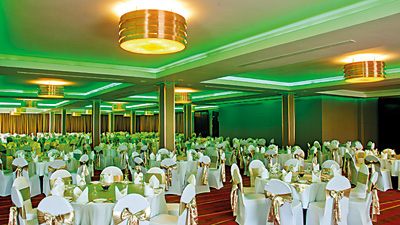 Pegasus Reef Hotel, Wattala was the first star class hotel in Sri Lanka to open its doors to visitors in the 70 s.  Since entering the hospitality stream in the country, the hotel has recently undergone a massive refurbishment process and has upgraded all its services and amenities to modern star class grandeur.
Bordering the blue seas, it is in a unique location with the airport and the country's capital just minutes away from the hotel. The hotel is surrounded by natural beauty and the hospitality of the staff makes a guest feel comforted and cosseted.  The hotel has two recently refurbished main banquet halls. Aptly named 'Ranthambara' hall, facing the beach, can entertain 350 guests while the second hall 'Sobara', located near the front lobby, has facilities for 250 guests. The brand new lighting system was installed and it helps to create the necessary mood and ambience of the occasion even better.
'Ekwin' and 'Pehara' are the two conference halls in the hotel.  These can accommodate (roughly) 25 and 75 guests respectively. Both halls are equipped with modern state-of-the art multimedia projectors and audio solutions. The staff is always at hand to assist you whenever you need their assistance. Pegasus Reef Hotel has a beautiful stretch of garden extending towards the sea. Sunset on the beach is a wondrous sight not to be missed.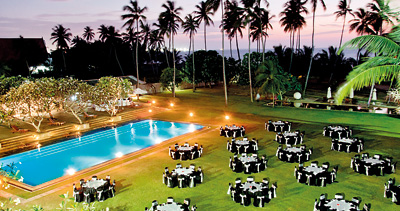 With the sea on one side and the swimming pool on the other, the outside is automatically 'air conditioned' with natural breezes. The beautifully landscaped garden is one of the most wonderful locations for an outdoor function. The seating could be arranged to suit your requirements making it your very own function. Seating arrangements can be made for 300 guests in the garden giving you the freedom to let your dream come true under a blue, blue sky.
Pool Deck is an ideal spot to enjoy the evening with friends. The deck area can also be used to host a cocktail or any other night-time entertainment.At Pegasus Reef, guests will always enjoy a smorgasbord of delectable local as well as international cuisine. Theme foods are a specialty at the hotel, and you can be rest assured that your guest will always remember the fantastic food fare at the hotel.
The hotel extends special care and attention to couples who are on their honeymoon. Their rooms are given specialty treatments with gifts to make them feel welcome. Couples who have their weddings at the Pegasus Reef hotel are offered a complimentary room for the first night.  In addition, the hotel will also help you with flower decor, dancing troupe and 'Ashtaka' to lighten your burden of finding personnel for these services.
For more details, contact 011 2930205-9 or log onto www. pegasusreefhotel.com