Janakaraliya 10th Anniversary in Anuradhapura
View(s):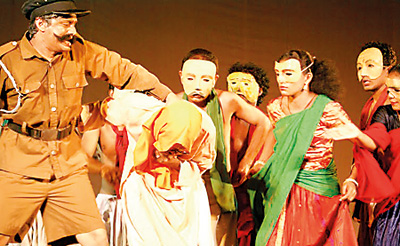 Celebrating its 10th anniversary Janakaraliya Drama and theatre institute has organized a Drama Festival at 7.00pm on August 5, 6 and 7 at the "Rangadharanie" theatre at the Janakaraliya Theatre Institute at Shravasthipura, Anuradhapura.
"Hunu Wataye Kathawa' which was created by Parakrama Niriella for Janakaliya, which won five awards including the best drama at the 2014 National Drama Festival will be staged on August 5, "Anadaramal and Disaster Marketing" on August 6  and "Charandas" which won nine awards including the best drama at the 2006 National Drama Festival will be staged on August 7.
Sanjeewa Upendra, Selvaraj Leelawathi, Ronika Chamali, Nishantha Kularatne, Rasaiyah Lohanathan, Arosha Tharangani, Sumudu Mallawarachchi, Dewran Sri Livera, Ajantha Shanthakumar, Palitha Abeylal, Inoka Lankapura, Sarath Baanagala, Amila Dinesh Kumara, Vijitha Hettige, Kumareshan Mahendiran, Thilini Nimesha, Madeera Udishani, Samanlatha Dissanayake, Dinusha Alahakone, Thiyagarajah Shivanasan, Alaguraj Yashaoprasad, Duminda Mendis, Nipun Nirmal Bandara, will be performing in the above drama. Sumuda Mallawarachchi directs the music while Ajantha Shantha Kumara handles the lighting. Arosha Tharanganie is the stage manageress. Choreography is done by Ronika Chamali.  Dilip Rohana is the Production Manager.