Fusion music at its best
By Smriti Daniel
Sprawling across four days this week, the annual Musicmatters Festival returns with a full schedule of exciting performances and workshops. For our cover story this week, we speak with some of the local musicians – many of whom are a part of Musicmatters itself – who will be performing at the event.
View(s):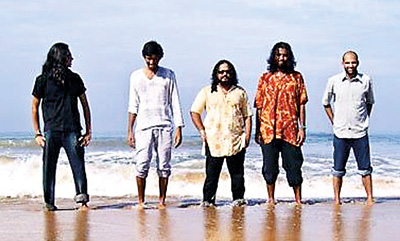 Madhavi Shilpadipathi's artistry owes itself in equal parts to nature and nurture. Her mother, Kanthi Shilpadipathi sings beautifully and is famous for her rendition of Sri Lankan folk music. She also composes her own music, which she and her daughter sometimes perform together, most notably on a CD for young children. Madhavi's father, Piyasara Shilpadipathi is also famous for his practice of Kandyan dance and music. He is an authority on the subject and a much sought after teacher who lectures both in Sri Lanka and abroad
Madhavi grew up steeped in music and dance, and soon became a performer in her own right. She has even taught at the school her parents run – Piyasara-Kanthi School of Dance. It's why it might come as a bit of surprise to some that she chose to follow a career in HR. However, after years where her music took a back seat, Madhavi has been discovering it again as a vocalist for the Serendib Sorcerers.
The group are intent on exploring what they see as the 'new musical possibilities with the improvisational tradition of jazz, based on melodies from Sri Lankan folk music.' Aside from Madhavi, the ensemble comprises EshanthaPeiris (violin), Derek Beckvold (alto sax), Sarani Perera (guitar), Isaac Smith (double bass) and Sumudi Suraweera (drums).
Speaking to the Sunday Times, Madhavi says she sees the folk music she so loves as something unique to Sri Lanka. "The melody and tunes are beautiful and you use the voice very freely; the voice is not limited to only a handful of notes, there are very beautiful voice variations." Convinced her immersion began from when she was in the womb, she says, "I sing from my heart and I feel very connected to the music."
Madhavi is loving her experience with The Serendib Sorcerers. "It really does work together, I think because Sumudi [a one time student of her father's] understands Sri Lankan music, dancing and drumming as well." She sees her musical partners as having studied the roots of the vannama they've taken on – "they play with an understanding and appreciation, so it blends smoothly and comes together," she says.
For the Musicmatters Festival, the group will be playing a selection of vannamas and other numbers related to Kandyan and low country rituals and folk songs.
Since they first began performing in 2006, Thriloka have become established as one of the island's most interesting and accomplished bands. Their innovative blend of traditional Sri Lankan folk music, Indian raga, jazz, psychedelic and progressive rock has inspired a repertoire of original instrumental music and a unique sound. Band members Harshan Gallage (drums), Uvindu Perera (bass), Sarani Perera (guitars), Eshantha Peiris (keyboards) and Pabalu Wijegoonawardane (percussion) have won fans both in Sri Lanka and abroad and are known for their ability to improvise beautiful music in performance. They released Bisura, their debut album in 2007 and followed that with Nirmanarathiya in 2010.
For the Festival this year Thriloka will be performing a new piece based on the 'Asne' which is a component of the Kandyan kohomba kankariya ritual in addition to their established repertoire. While Dr. Sumudi Suraweera's interest in Sri Lankan low-country traditional drumming became the basis of his PhD research, it also lead to the creation of Baliphonics in 2007. Having worked closely with and studied the work of well-respected bali practitioners from Raigama, Daniel Rupathilaka and his two sons, Prasantha and Susantha, he found that the space for ritual performance was shrinking in Sri Lanka. While he could do little to prevent that, he and Eshantha Pieris felt that the music itself could be kept alive through performance and innovation.
In concert, Baliphonics takes the music out of its traditional, ritual context and presents it to a wider audience. Sumudi translates the rhythms of ritual drumming on to a western drum set while Esthantha and Isaac Smith add tonal depth through the sounds of the piano and the double bass. Using improvisation and drawing from influences that range from modern jazz to sound art, the group's performances are memorable – uniquely Sri Lankan, they encapsulate age- old spiritual traditions yet are inescapably contemporary in their sound.
With Eshantha's departure, this will be the last time Baliphonics will perform as a quintet for a while. The festival performance will include new segments to feature the endless variety of repertoire hidden in low-country bali ritual music.