Bringing literature to living room
View(s):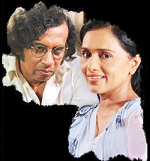 The 'Bhawa Theertha', telefilm series directed by Santhusha Liyanage who is famed for his previous teleserials 'Vishwanthara' and 'Jeewanthara' is now being telecast on Rupavahini. Santhusa's previous two directions were based on world literature and a short story selection from Sri Lanka.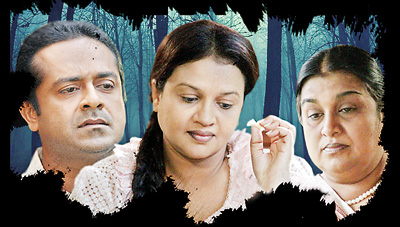 The series will have different stories on themes like love, affection, suspense, mystery and psychological issues. Each story lasts about one and a half hours and focuses on novel issues based on the scripts of new writers.  Aimed for higher artistic taste the tele series is directed in a novel way with new editing styles, music and a variety of casts different from each story.
The cast for stories include Prathiba Hettiarachchi, Anoma Waththaladeniya, Niroshan Wijesinghe, Lucian Bulathsinghala, Anoma Jinadari, (Samshiya) Athula Pathirana, Sujani Menaka, Sunanda Liyanage, Manohari Wimalathunga, (Heta Honda Dawasak) Jehan Appuhamy, Prathiba Hettiarachchi, Gamini Wijesinghe, Sujeewa Uncle, (Putha Enakam), Seetha Kumari, Govin Winwan, Nimal Jayasinghe, Thushari Chamila, Chaminda Pushpakumara, (Mathaka Bashma) Anuradha Mallawarachhi, Prasadini Athapaththu, Thusitha Laknath, Priyantha Sirikumara, Sampath Paranaliyange, (Thaththa) Lionel Wickrema, Leoni Kotelawela, Uddika Premaratne, Sujeewa Priyalal, Anuradhika Padukka, (Sirakaruwa) Dayadeva Edirisinghe, Dharmapriya Dias, Madura Prabhashwara, (Rathriya Gewi Gihin) Semini Iddamalgoda, Nilmini Sigera, Shyam Fernando, (Adaraneeya Thathparayak) Gayani Gishanthika, Ama Wijesekara and Jayantha Muthuthanthri.