The problem is greater than the excesses of a war
View(s):

As predicted, the swing of the United Nations Human Rights Council this year towards initiating an inquiry into war time excesses in 2009 has forcefully enabled the emergence of a full blown military State in post-war Sri Lanka.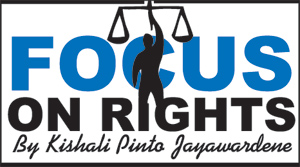 As a result, even those fragile checks and balances which had survived emergency rule in the face of prolonged civil and ethnic conflict have been rendered redundant. The already tightly controlled space for expression and opinion has been restricted to the point of virtual paralysis. Previous thinly disguised excuses of 'terrorist activities' are openly discarded. Now, the internal focus is purely on the curbing of anti-government dissenters referred to as 'traitors' and 'non-patriotic' even as the United Nations gingerly tiptoes towards its much vaunted international inquiry.
Crudely militarized state apparatus
Shadowy men continue to tail the head of the country's Bar Association for the second week while law enforcement authorities stay mute. Unprecedentedly, unruly mobs protest without hindrance outside the media industry run Sri Lanka Press Institute (SLPI) office in central Colombo against the holding of innocuous training programmes for journalists.
In the north and east, the Tamil people remain under routinely intrusive military surveillance. In garrisoned towns, abuses become inevitable. Last month's report of an abduction and rape of an eleven year old village girl allegedly by navy officers attached to the Karainagar base was just one such incident. Just how are we expected to react towards such an incident? Whom exactly are we expected to believe?
Meanwhile, the Bodu Bala Sena has been allowed to fade away to relative obscurity, even as we brace ourselves for the next obscene anti-Muslim attack which, as we saw in Aluthgama and Beruwala, will be meticulously planned. These are eminently dangerous signs of a collapsed democratic State over which a military regime has been superimposed.
And as much as the militarized drive may be framed against civil society organizations, there is a singular reluctance to use existing law to separate the bad eggs from the good, as it were. Instead, ministerial directives are issued without legal validity, couched in ungrammatical and unacceptably broad terms.
Lack of understanding of Sri Lanka's impunity problem
On sober reflection, there is little doubt that the overtaking of moderate opinion in government by a militarized state apparatus is directly linked to the intense insecurity faced by the ruling regime as a result of the UNHRC inquiry. This poses an awkward question. Where does the balancing of this equation leave ordinary Sri Lankans? In the long term, what will result from this inquiry? This question remains shrouded in international realpolitik. After all, international criminal justice standards may resound with great force in conference halls. But as history teaches us only too well, the deterrent thrust of actual action based on these standards is governed by the political interests of States, first and foremost.
We see this palpable hypocrisy being manifested most recently in Gaza with Israel violating international conventions by the dozen as children died in devastating hundreds following Israeli strikes on unarmed civilians in a supposed attempt to stop Palestinian militants. Clearly, the likelihood of Israel being forced to its knees to atone for these violations is remote.
Overall moreover, the international community appears to be yet incapable of understanding the problem of impunity that Sri Lanka faces. Ironically indeed, this is seen very well in the attitude of Australian policy makers towards Sri Lankans who flee the country in rickety boats seeking refuge. Statements by Australian spokesmen are informed by over-simplistic generalizations that ignore the breakdown of the Rule of Law.
Trite and banal explanations
So the rhetoric of economic refugees is commonly used to cover each and every situation of these desperate people. The reality of a militarized State, (which reacts with fury against the minorities but also the majority), is discarded in favour of a trite and un-forgivingly banal explanation confining the problem to war-time excesses. This was exemplified in a public statement by Australian Prime Minister Tony Abbott during the November 2013 Commonwealth Heads of Government (CHOGM) meeting in Colombo that Australia does not condone torture but that 'sometimes, in difficult circumstances, difficult things happen.'
In an opinion piece that I wrote at that time to the Lawyers Weekly, Australia's premier legal weekly (November 27, 2013), it was pointed out that this assertion is contrary to international law as well as Sri Lanka's own Constitution which prohibits torture without exception.
Indeed, as much as some countries may be motivated by their specific interests to engage in an inquiry on war crimes against a particular State but take quite a different position in regard to yet another State, Australian policy towards Sri Lanka appears also to be governed by these same parameters. This is certainly a natural consequence of the protection of state interests. But superficial assumptions of 'difficult things happening in difficult times' brings a different focus into the discussions which needs to be challenged head on.
Eschewing superficial assumptions
At its most basic, this assumption that the problem of torture in Sri Lanka is limited to the period of the conflict is wholly incorrect. Rather, the use of torture by state officers is endemic and routine. It continues post-war as is well documented. The judiciary has little authority. Many parts of Sri Lanka have become vast criminal enterprises, run by corrupt politicians, law enforcers have become the law breakers and torture, rape, even murder, remain uninvestigated. Unless, of course, the victim is a foreign national and the relevant host country applies pressure as we saw in the Khuram Sheikh case.
In sum, caught in-between international realpolitik and the over-reaction of governmental fury in response, those who are directly at risk are ordinary Sri Lankans desperately trying to cling on to the remnants of a democratic system of government.
Let us make no mistake about this.