Isn't it sickening to see doctors fight?
View(s):

My Dear Hippocrates,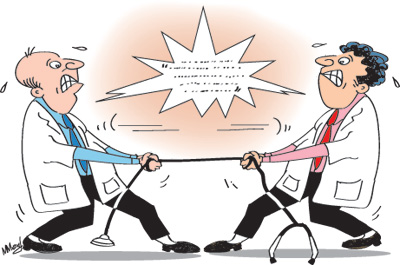 I know you lived more than two centuries ago and you are now dead and gone but I thought I should still write to you because of what is happening in Paradise Isle. Wherever you are I am sure you would be turning in your grave, if you hear of what is going on here among your disciples.
They apparently threatened each other quite freely and traded blows in an ugly fight at the largest hospital in Paradise last week. All this was over trying to wrest control of their trade union which has commanded much respect in the past.
Pardon me if I am wrong, Hippocrates, but I thought these were people who took an oath which is known by your name when they entered their profession. In that oath, didn't they promise to treat their colleagues as 'brothers and sisters'? Surely this is a funny way to treat your brothers and sisters!
This being Paradise, I am sure you must be wondering why I am so surprised about this brawl. After all, this is a place where ministers tie people to trees, parliamentarians intimidate traffic policemen doing their duty, mayors walk around brandishing 'toy' pistols and local politicians murder tourists!
In fact, I suspect there is something wrong with this land itself because even visitors to this place soon become aggressive. Why, when the British Prime Minister was here he was acting like a thug and the American Ambassador constantly treats us in the way her ancestors treated African Americans!
I am also beginning to wonder whether a few of your disciples had some training with the 'Bodu Bala Sena'. That is because storming meetings without prior notice and disrupting proceedings is their specialty and that is what seems to have happened in this incident.
But why I am still surprised at this brawl is because all these years, your disciples were perhaps the only profession that retained its dignity and independence. They even managed to keep aloof of politics, with their trade union fighting both blue and green governments-often with success.
Now, all that seems to have come to an end and they too seem to follow the example set by others, trying to settle issues through confrontation and intimidation. Maybe they watch too many political talk shows on television where participants trade blows and insults and even bite each other!
Now, if they really wanted to fight, they could have channelled all their energies and aggression for a better cause such as fighting the dengue mosquito and trying to prevent the dozens of deaths it causes, which continue despite all that is being done to prevent them.
If they wanted a real challenge they could have even taken on the tobacco and alcohol industries which flourish, despite Maithri's efforts to keep them under control and Mahinda maama's promise about 'mathata thitha' which has become like his promise to abolish the Executive Presidency.
Or, since all this fuss is about gaining control of their trade union, they could have taken a leaf out of Mahinda maama's book, Mahinda Chinthana, and passed a clause saying that anybody can run for the top job of the union for ever and ever but then they are not as smart as Mahinda maama, are they?
Now, don't get me wrong, Hippocrates, I don't think all of your disciples in Paradise can be blamed for what happened. In fact, the vast majority of them do a very good job for a pittance of a salary which is why Paradise is one of the healthiest nations not only in the region but also in the world.
I suppose they would have been fed up with their plight too, watching people with much less abilities and integrity entering places like the Parliament and then becoming millionaires overnight despite behaving like rascals in that hallowed place. So, maybe they thought they should act like politicians.
What next, you wonder, for your disciples. Someone suggested that they should be sent to the Cricket Board. That is the only other place where there are constant brawls over the election of office-bearers and the Police have to be called in to restore law and order after meetings.
Anyway Hippocrates, wherever you are, it appears as if you would have to keep a closer watch on your disciples in Paradise. Or, maybe we should ask our Elections Commissioner to take over their next elections — although, as we all know, that is no guarantee of a free and fair election!
Yours truly,
Punchi Putha
PS: There was a time when doctors were ashamed to call themselves doctors because Mervyn claimed he had a doctorate and called himself a 'doctor' of sorts. I am quite certain that Mervyn might now be ashamed to call himself a 'doctor' after what happened this week!