Pettah Interchange provides a taste of the German subculture
View(s):

Pettah Interchange provides a taste of the German subculture

On the first weekend of August in 2014, on August 2 from 9 p.m. to 6 a.m., Pettah Interchange will return for its third incarnation to give Sri Lankan audiences a taste of the German subculture using unconventional public locations to celebrate music and the arts.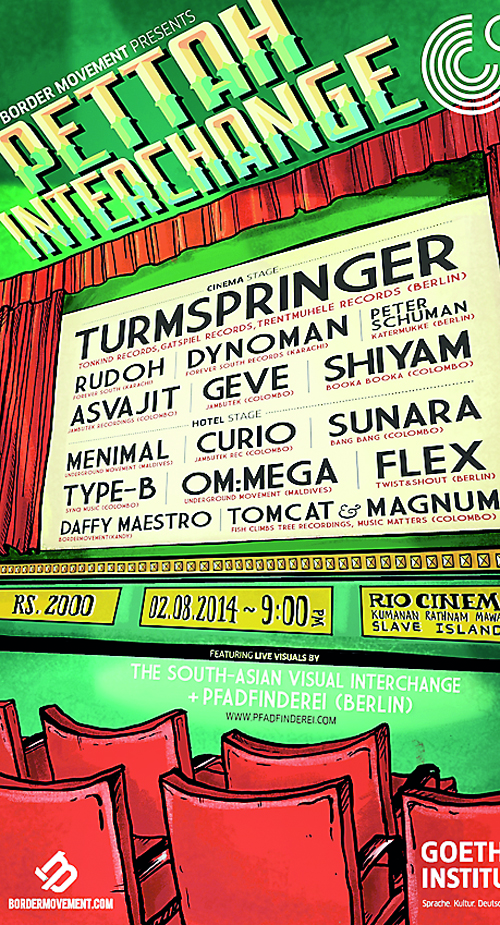 After the abandoned Gaffoor Building of 2012 and the grubby incense marketplace of 2013, this year Border movement will turn the neglected Rio Cinema and hotel in Slave Island into an audio-visual club experience of international standards across two stages and with a number of local twists.
Headlining the event organised by the Goethe Institut is the Berlin based DJ/Producer duo and head of Tonkind Records, Turmspringer alongside Kater Holzig/Bar 25 resident and label manager; Peter Schumann. Bolstering the lineup will be a number of regional acts including a back to back DJ set from Rudoh & Dynoman of Karachi's Forever South Records as well as Menimal & Om: Mega of the Maldivian collective known as the Underground Movement.
Representing the local scene will be heavyweights of the local circuit Asvajit (Jambutek Recordings/Bang Bang) and Shiyam (BookaBooka) alongside underground favourites Geve, Sunara& Curio. Adding some diversity to the lineup, Pettah Interchange 2014 will also feature eclectic live sets from Daffy Maestro, Tomcat & Magnum as well as Type B from the SynQ music collective.
This year's event will feature extensive work by the 2014 South Asian Visual Interchange under the mentorship of Berlin based digital collective Pfadfinderei.
Expect a complete transformation of an underutilised and forgotten space in the heart of the city and an evening of music, art and celebration that will not be forgotten in a hurry.
For more see their Facebookpage :https://www.facebook.com/events/725992097464362/?fref=tsc