Dengue battle costing millions but it's starting to work, say officials
By Joshua Surendraraj
View(s):
The anti-dengue drive in the Western province is costing millions but top officials point out that dengue cost the country almost Rs. 1 billion last year and gave heartening news that the current programs have helped to stem the spread of illness.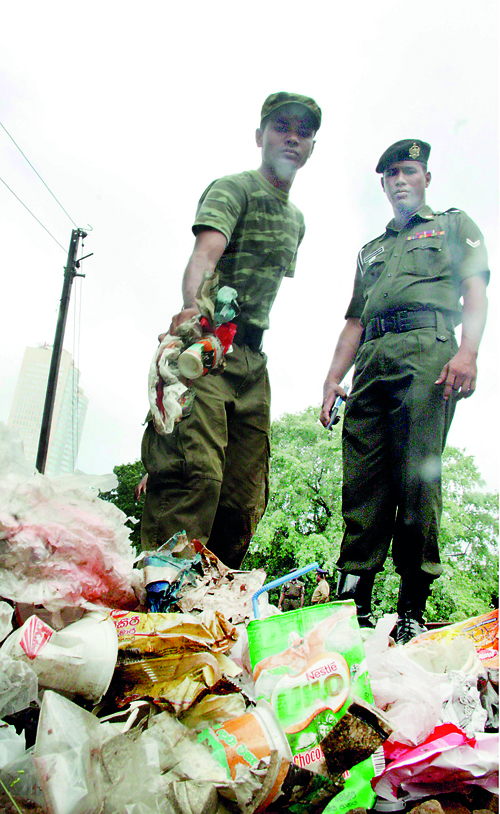 Health Ministry Epidemiology Unit chief Dr. Paba Palihawadane said intensive efforts had more than halved the cases of illness being reported each week, from 2000 to 500-700.
More than 20,000 cases have been reported this year so far this year, with 52 deaths, he said.
"Finding dengue breeding places and destroying them has shown positive results. This clearly shows that we have the knowledge and capability of bringing this deadly disease under control," said Colombo Municipal Council (CMC) Chief Medical Officer Dr. Ruwan Wijayamuni, commenting on the recently-concluded second phase of the Emergency Dengue Control Programme.
The campaigns in the Colombo district alone had cost about Rs. 5.7 million, he said.
"In 2013," Dr. Wijayamuni said, "we had 3928 cases in Colombo, and taking into consideration the costs of treating dengue patients, the work time lost, hospital costs, Intensive Care Unit (ICU) costs, also in the case of a death the funeral expenditure, cost of chemicals sprayed, laboratory costs, the loss of tourist income amounted to approximately Rs. 0.85 billion in total.
"Keeping a patient in the ICU would cost at least Rs. 300,000 a day and a patient would have to remain for at least ten days," he said.
The two dengue peak times, June-August and November-January coincide with peak tourist arrivals and if tourists are deterred from coming to Sri Lanka for fear of dengue infection this could cost the country dearly.
The campaigns must continue until the public becomes trained to proactively eliminate dengue breeding grounds, Dengue Control Unit Spokesperson Dr. Nayana De Alwis said.
"The Ministry of Health is spending millions on these campaigns," she said.
"People have to become motivated – therefore we have to do these campaigns on a weekly basis. The clearing up of possible dengue breeding grounds has to be inculcated into a person's daily routine."
Last Friday, dengue breeding grounds in factories, educational and religious institutions were targeted.
"We must aim to reduce the use of environmentally unfriendly substances such as fogging and insecticides and these door-to-door campaigns are helping us achieve this to a great extent," said Entomology Officers Association Secretary K.D.N. Sumanasena.
With fogging, lizards who consume mosquitoes are killed, and when drains are sprayed small species of fish such as guppies that breed in these waters die along with the mosquitoes.
"Entomological instructions should be followed," said Mr Sumanasena. "There are 142 species of mosquitoes in Sri Lanka. There are two dangerous species in the Western Province. These mosquitoes only breed in a certain area, so fogging is not a feasible option.
Mr. Sumanasena said it was a pity that the clearing programs had not been carried out in March, when they would have had more effect in reducing the toll of illness.
No answers for Wattala rubbish problem
The garbage crisis in the Wattala area is becoming worse by the day – tree cuttings and other miscellaneous items left lying by the roadside are creating potential dengue breeding grounds.
"We have conducted several sramadanayas and we took part in the emergency dengue prevention campaigns but we plan to leave the programme as we have no proper place to dump our garbage," the Chairman of the Wattala Pradeshiya Sabha, R.A Thiyagirathna de Alwis said.
He added: "Almost 20,000 baskets of leftover food are collected daily; these are then recycled to produce bio-gas. The problem, however, lies with the remaining lot of garbage such as tree cuttings, cardboard items and other miscellaneous products."
Previously, garbage was dumped opposite the Dikkowita fisheries harbour but this was stopped by the order of Minister of Economic Development Basil Rajapaksa. The garbage was then dumped on a five-acre private plot of land in Kerawalapitiya.
Mr. de Alwis said a directive from the Defence Ministry banning the dumping of garbage on this property had put a stop to this practice.
"There were no complaints from the local neighbours or even the temple nearby, yet we were asked to stop dumping garbage here. As a result our tractors have no place to dump the garbage and we have instructed them to dump the garbage wherever they could," Mr De Alwis said.
"We urge the authorities to give us a new site to dump garbage or give us more time to find a new location," he said.