WOOX Innovations audio products here
View(s):

WOOX Innovations, which drives the Philips brand in sound, home entertainment and related accessories, recently introduced a range of innovative audio products for the Sri Lankan market.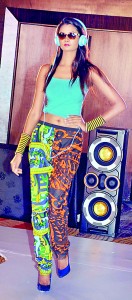 The launch unveiled the complete range of Philips Soundbars including the revolutionary Philips Fidelio HTL9100, and the Blu-ray home theatre 5000 and 3000 series. Also on show were the Nitro NX speaker range and the Philips Headphones collection. These products aim to improve the entertainment experience through great sound quality, advanced technology and sophisticated design.
Speaking at the launch, Matthew Dore, Director Sound and Acoustics, WOOX Innovations expanded on Philips' innovative approach and groundbreaking products and the role of their highly skilled panel known as 'Golden Ears'.
Originally designed as a program to develop the listening skills of Sound Engineers at Philips' audio innovation labs, the unique Golden Ears training program is now available via an interactive web (www.goldenears.philips.com) experience that is optimised for both desktop and mobile. It is the ideal listening workout for those who are serious about sound and want to sharpen their listening skills, just like professionals.
WOOX Innovations is headquartered in Hong Kong.