Kerry pushes plan to 'clean up' disputed Afghan vote
View(s):

KABUL, July 12 (AFP) -US Secretary of State John Kerry was today to hold a second day of talks with Afghanistan's feuding presidential hopefuls, seeking a deal to "clean up the tally" after disputed elections.

Despite back-to-back meetings on Friday with rivals Abdullah Abdullah and Ashraf Ghani and other officials that stretched deep into the night, US officials said an accord was not yet on the table.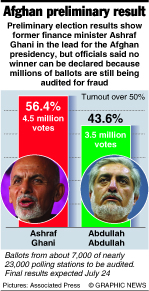 The deadlock over last month's run-off vote to succeed outgoing President Hamid Karzai has plunged Afghanistan into crisis and dented US hopes of a smooth transfer of power as Washington seeks to withdraw all its troops by late 2016.
Kerry was to meet Saturday first with Abdullah and then with Ghani, US officials said.
Under a proposal put forward by the United Nations, the country's elections commission would audit ballot boxes from just over 8,000 polling stations where suspicions of ballot-stuffing have been raised.
While Ghani's campaign has embraced the UN plan, Abdullah's team remains sceptical arguing the proposals to review some 35 percent of all votes does not address all their concerns.
On Friday Kerry stressed that results released on Monday showing Ghani in the lead with some 56 percent of the vote were only "preliminary".
"They are neither authoritative nor final, and no-one should be stating a victory at this point in time," Kerry said.
"We want a unified, stable, democratic Afghanistan. It is important that whoever is president is recognised by the people as having become president through a legitimate process," he said.
Abdullah, who has already lost one presidential bid in controversial circumstances, has declared himself the true winner, saying massive fraud robbed him of victory in the June 14 run-off vote.
US officials told reporters late Friday that "many ideas were under consideration" as they seek to unblock the dispute.
Kerry was focusing on two tracks, a senior US administration official said.
"One is cleaning up the tally, so to speak, to the extent possible so that the process is more credible. But two, creating a dialogue where the Afghans can have the conversation" on a path forward, the official said.
Another US official said the UN audit would be very important. "There were serious allegations of fraud that were raised that have not been sufficiently investigated," he said.
Little headway seemed to have been made, however, in persuading Ghani and Abdullah to meet and discuss a way forward.