CWW Kannangara MVpromoted to Div I Segment 'A'
Under-20 Schools Rugby League lineup for 2015
View(s):
The Sri Lanka Schools Rugby Football Association (SLSRFA) released its Under-20 Schools League lineup for the 2015 season. Accordingly Singer Schools Under-20 League Tournament champs Isipathana College will lead the Division I Segment 1A while runners-up Trinity College will head the Segment IB.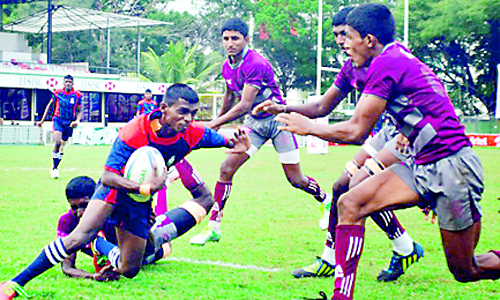 The remaining five teams of Segment IA aremade up with Kingswood, St. Peter's, St. Joseph's, Wesley and newcomers CWW Kannangara Maha Vidyalaya.
In segment 1B, behind Trinity, are their arch rivals Royal, Science, S. Thomas', St. Anthony's and Dharmaraja.
The improving CWW Kannangara side appears for the first time in the top division of school rugby and they will replace D.S. Senanayake College, who has been moved down to Segment 2B.
Once again in Division I segment 2A comprises of Prince of Wales', Ananda, Thurstan, Lalith Athulathmudali MV, St. Sylvester's and St. Benedict's. Mahanama tops the Segment 2B while the demoted D.S. Senanayake, Vidyartha, Zahira, Nalanda and St. John's Nugegoda are the other teams in the group.
The Division I Segment 3 comprises of two groups with four teams each in them. The Segment 3A is made of Piliyandala Central, Maliyadeva Kurunegala, St. Anne's Kurunegala and Wayamba Royal while the Segment 3B includes Nugawela Central, Royal Panadura, Lumbini and St. Thomas' Matale. – NA