When sorry seems to be the hardest word
View(s):

We read with some interest, and no small measure of amusement, the insistence by a member of a right-wing politico-philosophical power group with a sprinkling of saffron religiosity that the leader of a global religious movement must apologize for his religion's 'colonial crimes' when he officially visits our island early next year.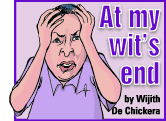 Some interest – because the religious leader has not been loath to do precisely that in the recent past… ever since assuming the papal purple exactly a year and quarter ago. No small measure of amusement – because to all intents and purposes, the right-wing politico-philosophical power group may be way ahead in the line where extremist religious movements can queue up to tender their respective apologies. You first, your holiness! No, after you, O venerable! Sorry, but I/we/you/they insist!
Sorry again if this seems funny in a way, because it is not, except for its peculiarity. It is – if it is anything at all – a little ironic and a lot more idiotic than is initially apparent. There are several reasons for smiling through the tears of both pain and frustration as we islanders wait to see how the politico-religious wrestling match will be played out over the next few months. Maybe while our allegorical Neros fiddle and our metaphorical Romes burn (but let's not mix our metaphors, shall we?).
First, the irony: The present supreme pontiff may be the last person to resist the opportunity to apologise for the alleged or actual misdemeanours of his congregation of faith. In fact, since becoming the earthly vicar of the community of the Nazarene Carpenter he has seemingly done nothing but tender his regrets and try to forestall recriminations on behalf of the faithful. Sorry, for the crusades! Sorry, for the victims of child-sex scandals proven and/or pontificated on as being conspiracies to discredit their eminences and disreputable sundry acolytes! Sorry, for the caviar-chomping and champagne-swilling ethos of a church that has as its first and most enduring symbol the cross of a crucified Man!
Really, he'll be frank – that's Francis the First for you – about anything that will redeem, salvage, or vindicate the reputation of the world's largest religious grouping. With good reason: arguably and demonstrably! There's much in those cardinal's closets to be, and feel, sorry for and sorry about. It takes a courageous man with a sensitive (the cynics say savvy) soul to confess sins of which neither he nor his near contemporaries have been accused. To his credit, il papa seems to be genuine, sincere, and good-natured about having to grovel a bit and eat humble pie for the sake of the Master for whom he is Chief Pastor to billions.
There's also the idiocy. Anyone with half a mind to put to the exercise can see as plain as Agent Orange in an uncivilised street war who's behind the recent arson, stone-throwing and name-calling, to say nothing of wanton destruction of national and personal property. You don't have to be at your wit's end about it to submit that the party of the first part (let those who have ears, hear) has a moral obligation to place the protesting prelate under lock and key, and throw the key away for a long while or till Samsara's end – whichever comes first. But attack of the most egregious kind seems to be the form of defence these days for majorities with minority complexes. (Wait, make that minorities with majority complexes. It's time to re-invert the inverted equation.)
The extremist monkish clans might not possess – or enjoy for much longer – the open support of powerful mandarins and the ostensible adulation of the largely pacific masses whose interest they claim loudly and unconvincingly to protect. So, demanding superfluous apologies from already apologetic prelates hardly begets poor tough-minded philosophers with a propensity for rabble-rousing. Or gets them any other advantage but the moral upper hand in their low minds. It simply begs the question of who should apologise to whom and for what.
There is, though, a smidgen of sense in what the venerable wants of his holiness – once you've absolved the former of all vested interests and venial sinfulness. That is that when sorry seems to be the hardest word, it's probably the most needed to essay in the advancement of reconciliation, redemption, and all the rest of it. This is to say that if the pope is willing and able to be the larger man, much good can come out of the exercise. Because, on reflection, an apology would set just the right kind of agenda for the healing of nations in our midst. And then, of course, it will be the turn of everyone who has ever lived in glass houses, thrown stones, broken bones, wounded with words and thoughts, and threatened to set off another holocaust.