Letters
View(s):

SL-England Test cricket and flashback to Uni. incident

Switching on the TV to see the recently concluded Test series between Sri Lanka and England, I saw nattily dressed ladies and gentlemen leisurely walking onto the Leeds grounds in large numbers, some carrying baskets, others flasks and even kids. Why do so many people spend so much of time on entertainment, was a thought that flashed through my mind.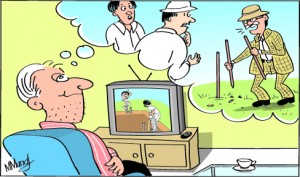 More importantly the thought took me back to an incident which occurred over 50 years ago, when I was an undergraduate at the Peradeniya University. One afternoon we heard a commotion from the campus cricket grounds, which is close to Jayathilleke Hall, where I was resident.
Through curiosity some of us rushed towards the grounds to see what it was all about. We could not believe our eyes when we saw a highly respected senior professor, (of the archaeology faculty), invading the field along with some undergraduate supporters, removing the stumps and preventing an inter-hall cricket match being played. He was shouting that cricket was a waste of time and students hadn't come to university to kill time, but to make good use of it!
As for me, now on 'match days' I miss most of my regular TV and radio, Pragrammes, which include at least two 'Buddha Dhamma sermons'!
Edward Botejue
Piliyandala
Oh, doctor, throw your searchlight inwards
Pardon me if I am a bit critical. I do it with real concern for not only the patients' welfare but also the welfare of medical practitioners who include many close to me.
"All professions are a conspiracy against humanity," said George Bernard Shaw. This truism is found even in the oldest profession and the medical profession. In my view the medical profession is the noblest of all professions, for it is a question of life and death for those who seek their services.
About one per cent of practice is more valuable than 100 per cent of precept or reams of advice or pulpitry. "Physician, heal thyself" is another apt saying. Our focus here is the medical profession.
Firstly, before preaching or postulating about patients' rights and duties let the light be turned inwards. Please reform the practitioners; otherwise the medical ideals will never get crystallised into day-to-day happenings.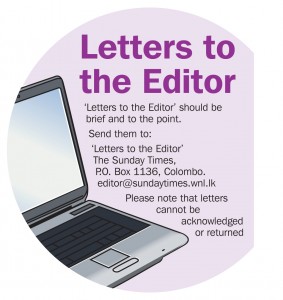 May be due to the flaw in the training imparted and the role models they emulated (or copied), or may be the stress and strain of studying, the draining financial outlay and other innumerable negative but concrete factors, some practitioners have become other than healers and saviours.
Dear sons and daughters of the medical profession, you are given a new birth when you pass out as doctors. Yours is a coveted profession. Your earning capacity is like the virgin Kimberley diamond mine. Yours is a moving horizon. Sickness and diseases are unending occurrences.
You can be certain that people will fall sick and now the incidence is endemic, epidemic and contagious too. You are sure of an unending line of patients. You are sure of your earnings and more and more doors are opened every day and every minute.
Why exploit as if your horizons are limited or terminating as the horizon appears and you are to behave like unsuccessful petty traders limiting their supplies, adopting price discrimination, fixing fancy prices, adopting short weight or using unlicensed scales.
You are the best of the intellectual cream. You are both academically and professionally qualified practitioners in a profession governed by the Hippocratic Oath that holds sacrosanct throughout your career.
We need your esteemed services. But it should not give you the opportunity to exploit. You must raise yourselves above the level of the run of the mill, humdrum money spinners.
Society will never remember you for your amassed fortunes. Society will count the number of lives saved and not the number of mansions you have built. Society will remember the new professionals you have helped to produce and prosper as servers and healers. Society wishes to remember you as saviours, curers, servers, healers and an umpteen number of very good things that flow from your noble lifesaving service. There is no end for the good you all can do. It is like the "Widow's Curse", the inexhaustible boon urn. You can afford to be magnanimous and yet be fabulously rich.
What is required is the highly commendable behaviour befitting the professional, prowess acquired after years of hard toil and objective research. Society expects you to set the trend for exemplary professional etiquette and conduct. Money should serve you not vice versa.
You are paid to heal and you are protected against professional failures or errors. Why? Society needs you and needs you as healers, curers and servers. That is the destined noble role.
R. Suntharalingam
via email
Plea of tottering pensioners of pre-95: Please sir give us a little more
I read with interest and some sadness Dr. Seetha Rodrigo's letter which appeared in the Sunday Times recently, regarding over- 70s pensioners.
I too belong to the same category of pensioners who retired before 1995 and now are over 70 years of age. I studied in a school on Thurstan Road in the mid-1950's where I opened bowling as a left arm fast bowler. I am ashamed to mention to readers the amount I get as a pension.
I appeal to the highest authority to increase the monthly pension immediately for pre 1995 pensioners by Rs. 3000 irrespective of the post that person held at the time of retirement before 1995. Our numbers are fast decreasing.
This proposal should not be put before the Treasury as they will definitely thwart its implementation by splitting hairs saying it would create 'anomalies' or some such similar word.
I am proud to mention that I served the state for 25 years first in a higher post in the jungles and later in a slightly lower post as I wanted to stay in Colombo and play cricket.
Although I am a tottering grandfather a few weeks ago I jumped into a bus after gulping two panadeines and my pressure tablets and went to Colombo to see a film.
Ranjan Goonetillake
Panadura