ASUS launches 'Notebooks' laptops in Sri Lanka
View(s):

Marrying the convenience of the mobile industry with fail safe wired solutions, on June 25 ASUS officially appointed John Keells Office Automation and EPSI Computers as their official distributors in the country. The auspicious occasion also marked the launch of their line of Notebooks.

According to Director Operations India and Country Product Manager Sri Lanka, Rajeev Chaudhari ASUS has never been about creating products entirely alien to a consumer, rather innovatively using the technology already available.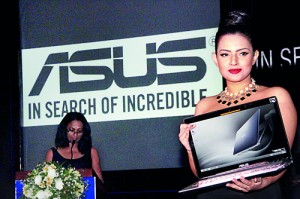 "In 2007 many thought it wouldn't be a success," Rajeev said at the launch, speaking of the first portable laptop ASUS created. The 10 inch screen was a huge success in the market, as he believes it was easier for women to handle to do their basic computing and for students to carry around.
The stars of the evening were the ASUS Transformer BookT100 and the Zenbook UX302 from the Ultrabook genus. Starting out as just a motherboard builder, ASUS has now branched out into a "bouquet of products" as Rajeev puts it and the 2-in-1 concept of the T100 embodies the very essence innovation ASUS is excited to bring to the Sri Lankan market.
Country Business Manager Intel EM Ltd Indika De Zoysa and Director OEM at Microsoft Sri Lanka Poojitha Rajapakse also spoke at the launch.