'Yala Caravan Village'
By Sanath Weerasuriya
View(s):

'Yala Caravan Village' is the first of its kind in Sri Lanka, located in the picturesque Gurugoda beach in Yala. Started in December 2012, 'Yala Caravan Village' comprises of ten luxurious imported caravans on a two acre land. It offers an ultimate wildlife experience or a typical relaxed adventure experience, that wildlife enthusiasts are looking for in a tropical jungle. 'Yala Caravan Village' is situated by the unspoiled sand dunned beach of famous Gurugoda in Yala- Palatupana,, just five kilometers away from Yala National Park.
The key attraction of this place is its unique location and surroundings. The Caravan Park provides a perfect beat of an adventure tour for any of the travellers, visitors or even for family gatherings.There are ten caravans parked in the village that provides full-board accommodation to adventure and Nature travllers, who wish to spend their vacation in a secluded environment. Peace and tranquillity is the theme of the isolated park bordering the main National Yala Sanctuary. It is a haven for honeymooners too and for those who seek adventure in the adjacent National Yala Park and other wildlife entities.
Each Caravan feature modern bedroom with all amenities including a digital TV offering international channels and a very spacious bathroom supplied with luxurious amenities. 'Coupled up with the mind blowing location guests are absolutely going to cherish the experience of their stay for many years to come' said Nadeesha Herath, the Manager of the Caravan Village.
All caravans are fully air conditioned and include electric power 220-240v Channelled TV, Mini bar with glass ware, running water, small kitchenette for basic cooking and a master bed with an embedded closet to stack all clothes and belongings. There are two types of caravans in the Village that can accommodate 4 to 5 persons. Of the total number of caravans three can accommodate five persons and the rest are standard 'rooms'. The main 'Dela Bungalow' is the only permanent structure in the property that can accommodate 10 to12 people in its two rooms and open air accommodation facility.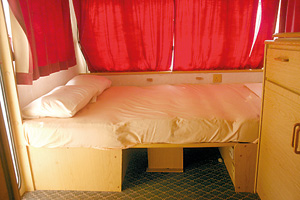 'Another notable feature is that all caravans are motorable and can be driven around. But the caravans at the village are fixed to all supply chains and if it moves the power/water supply will be interrupted' he said. The restaurant is located overlooking the Gurugoda Bay. It can accommodate up to 30 pax inside and about another ten on the beach outside the main Caravan restaurant.
'Our chef Ranjith is capable of delivering five star meals to any segment of our customers. The cuisines ranging from mouth tantalizing seafood to tropical and spicy Sri Lankan dishes, Chinese, Italian, and even special barbecue nights are too available on request' Manager Nadeesha said.'Yala Caravan Village' offers interesting outdoor activities such as climbing the Burma bridge, wall climbing for kids, water skiing in motorised boats, beach volleyball, bicycle rides, all-terrain vehicle rides, high rope course adventures and beach volleyball.
Apart from the main attraction Yala National Park, Bundala Bird Sanctuary(15 km), Lunugamvehera Park (17 km), Little Basses and Great Basses Reef Light House, Kirinda Harbour and Lagoon, Kalametiya and Uda Walawe are just few exciting excursions to name.