For those baby-doll eyes
By Namali Premawardhana
Young beautician Heshi Gunasekera takes the Mirror Magazine through the process of acquiring beautiful lashes through her skilled art form of semi-permanent eyelash extensions
View(s):
There's something about eyelashes that have always fascinated young beautician Heshi Gunasekera. An eyelash expert who believes semi-permanent eyelash extensions are a good alternative to enhancing beautiful eyes. Having watched Heshi at work – eyelash extensions seem to work almost identically to hair extensions. Heshi uses tape and eye pads to begin the process by holding the lower lashes down. Then, smiling mischievously she takes a little purple-topped bottle out of her magic box of beauty tools and treatments.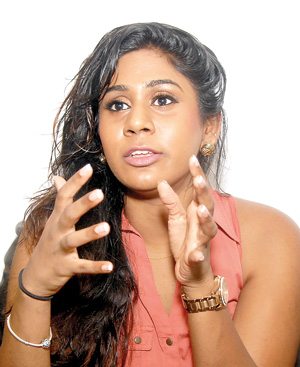 "This is the magic potion!" she laughs, squeezing a blob of thick black liquid onto a waiting plastic plate.Using fine tweezers held in one hand, Heshi separates a single hair on the upper eyelid from those on either side of it. Beside her, on a brilliant white surface lie hundreds of silk, mink and prime mink lashes in a variety of lengths and thicknesses. Using another set of tweezers in her free hand, she sifts through the lashes and picks up the one she feels is best suited to enhance the particular hair she has just separated for treatment. Holding the lash extension at just the right angle, Heshi dips the wide end of the mink lash into the blob of black glue.
"The process is simple enough," she says, tapping the lash gently to get rid of excess glue, "but it takes a lot of practice and a lot of patience".Heshi learnt the art and practiced it for two years as a professional in the US. In her six months back in Sri Lanka, she has not met another artist who meets her standards, so she herself wears a set of dramatic false lashes. These end in solid strokes of black liner that edge eyelids heavily shadowed in deep gold.With the utmost care she places the sticky end of the extension gently on the natural lash, as close as she can get to the root without actually touching the skin. She holds it there for a few seconds, while the glue dries. Then she moves on to the next lash.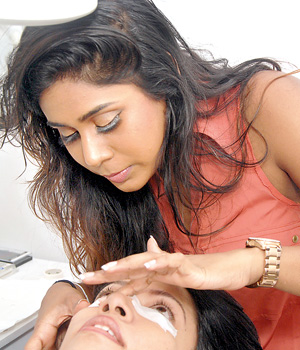 "You just need to look after them carefully," she says. "Treat them like babies, but just do what you normally do." So long showers, bubble baths, hours on the beach, in the sauna are all allowed. Mascara (which you don't really need anymore) can be harmful to the extensions, so she warns against that. If you're careful with your extensions, Heshi says, they will last the length of your natural lash cycle, and serve you until the natural lash falls out.
An individual lash naturally lasts up to 90 days on your eyelid, but since natural lash cycles aren't synced, it is recommended a refill every three to four weeks.
Two hours into the process of applying the lash extensions, Heshi is finally done and her client (often after a good nap) opens a completely different set of eyes. Gone are the days of three different kinds of mascara and struggling to get eyeliner on straight and even. Longer, thicker lashes and baby-doll eyes, permanently.
Lashes by Heshi is available at Ramani Fernando Salon in Borella, Honey pot (Park Road), Sothy's (Kinsey Road), Unforgettable (Nugegoda) and Shalini Siriwardene Salon (Nugegoda). For more information check out her facebook page at facebook.com/HeshisLashes.