Police shoes from China shop
View(s):

At least a part of the outfit for all policemen in Sri Lanka would be Chinese made deck shoes. The Ministry of Law and Order will buy 61,000 pairs from Xiamen Jade Stone Trading Company at a cost of US$ 890,905 or Rs. 189, 892, 321. The cost includes agency commission for Sri Lanka State Trading (General) Corporation Ltd.

The Chinese firm has been selected out of six bidders. The others, a report said, had products that were found to contain stitching hardness. The technical evaluation for the purchase has been done by a five member team headed by P.B. Nikahetiya, DIG, Transport and Communications Range. The other members were S.C. Weragoda, Senior Lecturer, University of Moratuwa, Colonel J.A.D.P. Jayathilaka, Commandant- CAAD, Sri Lanka Army, Saman Dharmasiri, Accountant, Ministry of Defence and M.S.K. Jayasena, acting Director of Management Services.

Government sources said the Chinese shoes were the highest priced among the six tenderers. However, they said its quality was considered better. Here is a line of the offers received:

Siba Holdings (Private) Ltd. US 8.25 per pair, Ace International US$ 11.12 per pair, Satisfactory Sales and Sourcing (Pvt.) Ltd US$ 8.97 per pair, S.W. International Rs. 1,948.80 and Bata Shoe Company of Ceylon Ltd. Rs. 2,350.88 per pair. The last two bidders, these sources said, were to provide shoes manufactured locally and their offers covered VAT.

However, the Sri Lanka State Trading (Gen.) Corporation (STC) had made a successful bid for US$ 14.90.
---
Army at Sampanthan's apartment — for dengue inspection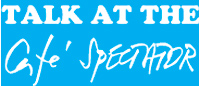 In a modest second floor apartment built hurriedly for the Non-Aligned Summit in 1976, Tamil National Alliance leader Rajavarothayam Sampanthan was at a meeting. There was a knock on the door. He was so busy he ignored it. More knocks and the door was opened by an aide. A young Army officer stood to attention and saluted him. He said he wanted to check the toilets in his apartment. They were in an operation to detect dengue mosquitoes.
Sampanthan promptly agreed. A group of soldiers walked in to the bedroom and then to the toilet to inspect behind the wash basin and the toilet seats. Minutes later, the officer saluted the TNA leader again and said "Thank you, Sir." That was how the Army was now engaged in a dengue prevention campaign. It was only last week President Mahinda Rajapaksa told the weekly ministerial meeting that Health Ministry officials were not doing enough towards eradication of this menace.
However, Public Health Inspectors attached to different local bodies are active. One of the places they went to this week was Nigeria's Ambassador's residence located down Rosemead Place in Colombo 7.  Initially the PHIs were told that there were no dengue mosquitoes in the premises and hence there was no need for them to inspect.
However, once the Public Health Inspector said they had to ensure this was done, they were let in.  The PHI, after the inspection, left as they were satisfied the premises was free of any dengue breeding sites. Luckily for the PHIs, the occupants did not claim diplomatic immunity and refuse entry.
---
UPFA's Jackson-style 3D Presidential campaign
With a Presidential election expected early next year, new methods of attracting voters are already under discussions.  One such new medium that is being looked at the top in the ruling UPFA is the use of a hologram, three-dimensional images created using laser and other technology.
A popular local music duo that run several events management companies have been roped in to secure the necessary equipment. Apparently the inspiration has come from the hologram of Michael Jackson. It was the highlight of the Billboard Music Awards in May this year and caused a sensation worldwide.
---
Diamond cake waited for young Amunugama
The cake was ready, but the birthday boy did not arrive before last Thursday's weekly ministerial meeting.
President Mahinda Rajapaksa chaired the sessions. In the birthday boy's absence, the items of the agenda were taken up for discussion.
Senior Minister and Deputy Finance and Planning Minister Sarath Amunugama walked in midway and the ministerial cake cutting followed at the end of the sessions.
The Minister was a young 75 on Thursday.
---
Heated row at Govt. group meeting
Tuesday's Government Parliamentary Group meeting saw heated exchanges between Parliamentarians Sarath Weerasekera (JHU) and Faisal Kassim (SLMC).
They arose after Mr. Weerasekera complained that Kassim had made some wrong remarks that he was not allowed to do politics in Ampara.
President Rajapaksa was absent. The meeting was chaired by Prime Minister D.M. Jayaratne.
---
Meeting at BMICH to review Aluthgama
Representatives of Sasana Arakshaka Mandalayas in the Kalutara District will meet on Tuesday at the BMICH to review the situation in the aftermath of the incidents in Aluthgama, Beruwala and Dharga Town.
One of the prime movers of the event is one time minister and former Colombo Mayoral candidate, Milinda Moragoda.
Police in the district have advised members of the mandalayas to be present at the event.
---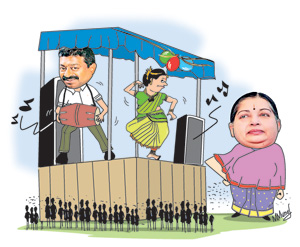 Thonda's female bait for Jayalalithaa
The talks at highest levels of the UPFA leadership were how to befriend the Tamil Nadu's fiery Chief Minister Jeyaram Jeyalalithaa.
Minister Arumugam Thondaman, leader of the Ceylon Workers Congress (CWC), seems to have had the answer.
He not only wanted a female Deputy High Commissioner for Sri Lanka in Chennai (Madras) but ended up suggesting who that should be.
It is Anushya Sivaraj, a former member of the Central Provincial Council. Her personal details have now been forwarded to the External Affairs Ministry for screening.
---
Prelate to explain polls plan
Ven. Maduluwawe Sobitha Nayake Thera, who has announced that he would come forward if asked as a common candidate for a Presidential election, is to announce his plan of action at a meeting in the BMICH on July 24.
The highlights, his backers say, include the abolition of the executive presidency, changing the electoral system and re-empowering the independent commissions.
---
Withdrawal of vehicles: Ministers show their gas
There was a howl of protests by ministers at their weekly meeting on Thursday when a proposal came up for the withdrawal of cars issued to their coordinating secretaries. The proposal came from Public Administration and Home Affairs Minister John Seneviratne.
One of those who voiced strong objections was Economic Development Minister Basil Rajapaksa. He said ministry secretaries had no right to make such recommendations to the Cabinet of Ministers. There was a chorus joining in to point out that most of the work of the ministers was being undertaken by their coordinating secretaries.
The flipside to it was of course the abuse of such vehicles. If Government regulations forbid State sector employees from driving vehicles issued to them, there are occasions when it is observed in the breach. One such case is of a communications official in a leading establishment. He is reported to have driven his car together with a girlfriend. The vehicle met with an accident in Kadawatha. The victim died this week. Since the accident occurred when the boss of the establishment was away, insiders say, he is unaware.
---
Guess who came to VIP dental surgery?
It was by all means a Dental Surgery patronised by VIPs. When President Mahinda Rajapaksa visits the surgery along Ward Place, he makes it a point to pay a visit next door. That is where former Mayor and Municipal Commissioner Omar Kamil lived.
Just a week ago, when plainclothed security personnel were hovering around the surgery, A.H.M. Azwer, the UPFA National List Parliamentarian, noticed it. He deduced it was those protecting President Rajapaksa. He thought he had come for a dental appointment.
So he promptly telephoned Mr. Kamil to be prepared for a Presidential visit. The latter was in Wellawatte and rushed through the heavy traffic.
He arrived there and waited for President Rajapaksa to emerge. He was not there. It was UNP leader Ranil Wickremesinghe who came out of the dental surgery.