Telling the story of Notre Dame in black and white
View(s):

France's celebrated Notre Dame Cathedral comes alive at the Lionel Wendt Art Gallery on the weekend of Saturday 12 and Sunday 13 July with 'Nostalgie04 – Notre Dame de Paris', an exhibition of black and white photographs by Kumar de Silva.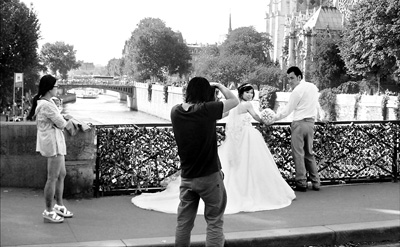 Presented by the Embassy of France in Sri Lanka and the Alliance Française de Kotte as part of the current French Spring Festival 2014, this exhibition is partnered by DIC Lanka (Pvt) Ltd, Seya Colour Kalubowila, Softwave Printing and Packaging Pvt Ltd, Lionel Wendt Arts Centre, The Revelations, Vitte Software Solutions, Wedding Dreams Flowers and Neidra Williams.
Open to the public from 10 am to 7 p.m. on both days, it will then continue from Monday, July 14 to Sunday July 20 at the spacious hall of the Alliance Francaise de Kotte at 11, Keppetipola Mawatha in Colombo 5.
"This fourth annual exhibition brings to the forefront little noticed facets of this over eight centuries-old Catholic treasure whose construction was completed over the course of 200 years. Much of the life around Notre Dame is often taken for granted. As I did last year with the Eiffel Tower, my focus this year is daily life, both animate and inanimate, as it unfolds around the Cathedral in the changing Parisian light. One only has to get off the 'fast-forward' mode, pause and watch …..it is a microcosm of the world out there. This to me is as fascinating an experience as taking the stairs to the bell tower and rubbing shoulders with the gargoyles with the panoramic view of the city spread out at my feet," says Kumar.
Kumar who describes himself as "an incurable francophone cum francophile" has had a nearly three decade-long association with France, making his debut on the little screen with the popular, French television programme "Bonsoir" on ITN in 1986.
"Our good friend Kumar once again showcases, with talent and humour, his fondness for France and French culture. This year too we are happy to embark with him in his unique vision of one of the world's most renowned pieces of architecture and history," says the Director of the Alliance Francaise de Kotte Claude Alexandre Martinez.
The Alliance Francaise de Kotte à Colombo (AFKO), situated at 11, Keppetipola Mawatha in Colombo 5 is fully affiliated to the Fondation Alliance Francaise (Paris) which recognises its certificates and diplomas. AFKO enjoys the patronage of the Government of France and the Embassy of France in Sri Lanka.
"All proceeds from the sale of these limited edition photographs will be donated to one of my friends of Sri Lanka's media fraternity – photographer Rukshan Abeywansha who has begun a long process of recovering in hospital after life-saving surgery to a ruptured spine following a motor accident. His total medical bill would be approximately Rs. 3 million, out of which his insurance would only pay a fraction. All his friends have rallied together in an effort to help his family bring him back to normalcy," Kumar said.