Musician of the middle path
By Susitha R. Fernando
Keerthi Accoustica unplugged Live Concert
View(s):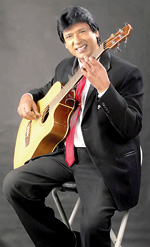 Following the immense success of his maiden unplugged show last November, Keerthi Pasqual well-known singer and musician will have his second show at 7.00 pm on 20July at the BMICH.  The show will comprise of more than 25 songs that he sang for more than three decades and a collection of his earlier songs and some of the latest. Their music is rearranged by three reputed musicians Sarath de Alwis, Mahesh Denipitiya and Mahinda Bandara.
Keerthi known as 'musician of the middle-path' meaning that his tunes are influenced by both eastern and western music is loved by both young and old. Keerthi started his musical journey as a base guitarist in the Galaxies formed by Stanley Peiris in 1976 and his original debut song was recorded in 1980 and his maiden audio cassette released in 1985.
His first song 'Hanthana Nil Kandu Weti Athara' made by Sunil Dharmasena was related to his own hometown Hanthana, Kandy. Joining Super Fortunes, the band was formed in 1983 later Keerthi became a household name with his song 'Neela Ahase Sanda Walawe' . However Keerthi left the country in 2000 with an unfortunate experience he underwent and returned with yet another hit song 'Kandula Ithin Samaweyan' in 2004. At present while singing Keerthi also teaches music and trains pupils for London exams.