Lankan expat's dream told by 'Gappiya'
Duvindi Illankoon speaks to Tharindu Wijesekara about his YouTube channel.
View(s):
There's something about Tharindu Wijesekara that is as brutally honest in real life as his alter ego – 'Gappiya' on YouTube. Where Gappiya's social commentary begins and ends without a hint of irony-testament to his skills as an actor-Tharindu's commentary on his own life, as an unwilling 'expat' on foreign land is bitingly realistic. "I tried to be the 'Aussie Guy for a while'," he tells us over a Skype interview. "It didn't work out." So now he's just unapologetically himself. 
But first let's talk about Gappiya, the Sri Lankan on YouTube quietly winning over his subscribers. Gappiya's channel on YouTube is brilliant stuff, if you're willing to overlook the lack of strict political correctness and the occasional slang word or phrase that may offend more sensible ears. Ninety percent of it is in Sinhala-because why not-but most of it is subtitled in English, although you may find it doesn't convey his words as well as when spoken in Sinhalese.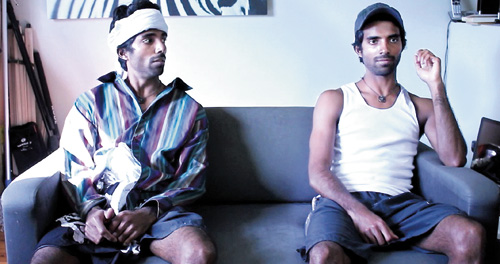 On YouTube, Tharindu sings, dances and raps (and occasionally acts) as Gappiya, a name he was christened with by friends in school because he was a fast runner.
Those friends and school were back home in Sri Lanka, where he grew up in Maharagama in a family of five. Tharindu has great memories of his childhood; schooling at Nalanda College, living in one of the country's busiest commercial hubs and finally, blissfully, discovering the computer and internet. "It was great," he remembers. "I was very interested in how computers worked- especially graphic design." This curiosity would see him travel to Australia. At 20, Tharindu found himself in a strange land with no options but to get going with life. "I didn't come from the kind of family where it would have been alright to give everything up and go home to have my parents welcome me with open arms," he explains.
And so, working all hours but not able to save much of it due to heavy living expenses, Tharindu spent much of his time with a group of fellow Sri Lankan friends, "staying in mostly because I couldn't afford to go out." On one of these rare night outs he met Lily White (fans will know her from his videos), and the duo moved in together in Lily's hometown-"where everyone was white except me," laughs Tharindu. It was here that the idea for a YouTube channel was born; "I was bored and feeling pretty lonely." The first video never saw the light of day but the second was uploaded and garnered fairly positive reviews.
Since then he has been on a roll. On Gappiya's channel there's no room for mollycoddling the truth. In 'Wanna be Famous' he's a rapper spelling out the expat dream, and although you may not plan to move to a foreign country and spruce up in a black leather jacket and sunglasses indoors it does strike a chord with anyone who has ever wanted to move abroad. In 'Kalusudda' (The Foreigner) he's a double act, playing a Sri Lankan 'living the Aussie dream' and his 'goday' friend (Or cousin? We're not sure) who has just moved over to Australia and in with him. In 'It's OK Baby' he's the devoted, long suffering boyfriend. They all end hilariously, if perhaps a little scandalously.
"The videos are mostly for myself," he says. This explains why he's mostly uncensored in speaking his mind, rarely giving thought to "what people want, as opposed to what I want to talk about." He doesn't seem to mind that his viewpoint may not be shared by everyone because as far as Tharindu is concerned, this is his channel and his turf.  Check out Gappiya's channel on YouTube-https://www.youtube.com/user/gappiya