Defiant Prasanna enters Indian movie market
By Susitha R. Fernando
Historical films will not take us anywhere
View(s):
What was unreachable and inaccessible for a long time has been reached, accessed and achieved by Sri Lanka's most 'successful' filmmaker Prasanna Vithanage. At a time when many Sri Lanka filmmakers and producers are trying to copy, follow and imitate Indian or Bollywood stereotype cinema and even allowed the Bollywood to overtake the local industry, Prasanna has managed to enter Indian film market and release 17 copies of his latest film 'Oba Nethuwa Oba Ekka' or 'With you, without you' in five main states in India.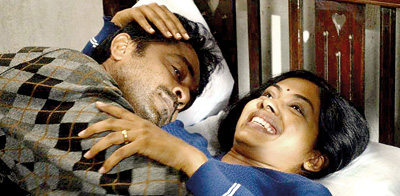 Though he became the pioneer to introduce Sri Lankan cinema to Indian movie market, Prasanna was subjected to third grade political campaign or mob censorship from Tamil Nadu forcing two theatre owners to stop screening the film there. However it was a blessing in disguise, with the latest development Indian film lovers have started to examine not only Prasanna's cinema and even the entire Sri Lankan cinema in a new light. 
"This is just a start. What is more important is to sustain the expression and we must plan to screen our films from Sri Lanka to Timbuktu," says Prasanna who is even determined to spread his cinematic vision to Asia. "I don't want to cancel what I have achieved just because of mob censorship in Tamil Nadu," the undeterred director says.
"Dispite this kind of interference, the film lovers in Tamil Nadu stood by the film and they watched the films even on the aisle in the 250-seat theatres," says Prasanna who is grateful to the Indian film audience. "Suppression and censorship is a political tool and you have to face it politically. We face similar mob violence here in Sri Lanka. "My film 'Purahanda Kaluwara' was banned on the grounds that it would demoralise the army but the Supreme Court gave a ruling where the minister who banned the film had to pay Rs. 50,000 from his pocket. However a similar fate was faced by many other filmmakers like Asoka Handagama, Vimukthi Jayasundara and even Jayasekara Aponsu who made a film titled 'Seetha Mang Awa" where Ravana Balakaya protested against the film.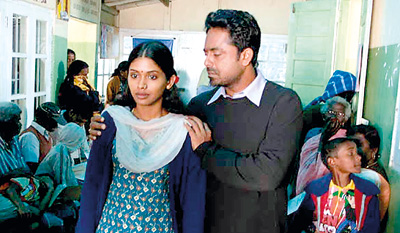 "It has generated the curiosity about other films made by me and the entire Sri Lankan cinema," Prasanna said adding that National Film Development Corporation of India (NFDC) has agreed to release all his films in the DVD format.  Besides Prasanna has received rave reviews for his film specially in the print media with a comprehensive coverage by leading newspapers in India and elsewhere.
"My next step is to release my films through the latest technology like mobile Application, I Tunes and VOD. We must target the region and our cinema should travel at least to South Asia and we must creates system to distribute our films among the region. "And the younger generation must target this and must reach these destinations," he said.
However the experienced filmmaker was worried about the sorry sight of present Sri Lankan cinema with nationalistic and historical tales that are created and recreated through cinema.  "Most of the filmmakers are making films for the local market that go well with the identity of the government. Highlighting nationalism these films are done to earn a fast buck for the producers. But these films will not take us anywhere,"