MR still can't bring himself to sign death warrants
By L.B. Senaratne
View(s):
President Mahinda Rajapaksa said he still can't force his hand to sign death warrants of prisoners sentenced to death by hanging.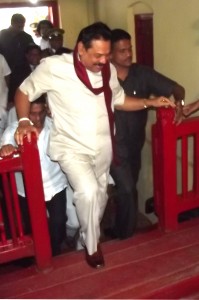 "There are more remand prisoners inside than convicted ones," the President also said, adding that it was his goal to turn prisons into rehabilitation centres. He made these observations at a ceremony to the hand over of the 138-year-old Bogambara Prison, by the Prisons and Rehabilitation Minister to the President for development. It will also house a prison museum.
"These matters should be thought out deeply," the President said. "The help of religious leaders must be sought to turn the prisons into rehabilitation centres. If LTTE fighters could have been brought back to civil society, so can men who have been languishing in prison sometimes for 20 or more years."
An inmate at Watareka Prison School had recently told him that he was locked up for stealing a mobile phone, while another had been jailed for entering a forest sanctuary without permission. The President said there were so many people who cut down trees illegally and transported them without any impediment.
He did not wish to have prisons full of inmates. It was his vision to have centres of rehabilitation and correction. On a personal note, the President said he once had a taste of the Magazine Prison, while personalities such as Tikiri Kobbekaduwa, Dr N.M. Perera, Keheliya Rambukwella and Edmund Samarakoddy had been in Bogambara Prison.
The President watched a short play about reconciliation. He praised it, saying it showed how all communities could live in harmony. This was the need of the hour after the restoration of peace, he stressed.
It is strange that prisons had been built by the British in the vicinity of Buddhist shrines and sacred Bo trees. This could be seen in Bogambara, Anuradhapura and Tangalle. It is those who advocate human rights that have done this, the President said. There had been double standards even during the time of British colonialists, he added.