'Bel Plaine' last concert in Sri Lanka
View(s):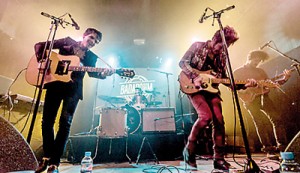 Popular band 'Bel Plaine' will come alive in Galle at the Peddlar's Inn Café on Sunday June 22 at 6.30pm. As part of the French Spring Festival, the popular 'Bel Plaine' outfit from France performed in Colombo on Thursday and Friday.
Bel Plaine which bagged the 'Paris Young Talent Prize' last year is one of the most touching and promising bands in France. Formed in 2011, the band Bel Plaine features Morgan and Antoine, both playing guitars and singing, and Cedric on drums.
The originality of the band comes from the different backgrounds of its members, inspired by rock, folk, pop or jazz music and artistes like Local Natives, Phoenix, Neil Young, The Antler and, Dawes.