Alston Koch honoured GOD Awards
View(s):

Sri Lankan born funk rocker Alston Koch was honoured at the 2nd Annual Global Officials of Dignity (G.O.D.) Awards. The G.O.D. award is the leading International recognition honouring excellence of individuals who have outstanding civic and charitable stewardship, and have significantly improved the quality of life in their communities through their expertise and talents in the fields of diplomacy, business, economy, philanthropy, and entertainment.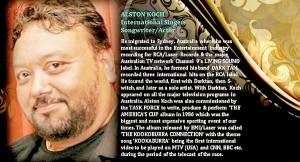 Dignitaries and ambassadors from all around the world assembled at the United Nations on Friday, June 20 for the Humanitarian Summit in association with the 2nd Annual Global Officials of Dignity (G.O.D.) Awards, presented by 'We Care For Humanity'. WCH Founder and President, Princess Maria Amor Torres, states, 'This is one of the biggest collaborations in the history of philanthropy.'
Daily Telegraph and News Ltd in Australia and the Southern Hemisphere along with the biggest selling monthly 'Woman's Day' tagged Alston's recent chart success as 'The Good News Chart Success Story of the year while the international media and the music industry dubbed him as 'The Funk Master and "The Grand Pa of Trance' amongst other accolades for this evergreen singer-writer and humanitarian.