Iran oil: Rambukwella, EAM exchange fire over fuel
View(s):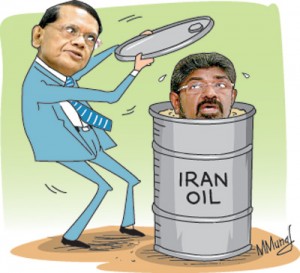 The External Affairs Ministry (EAM) took the extraordinary step of denying a statement attributed to the Minister of Mass Media and Information and Official Government Spokesperson, Keheliya Rambukwella – even as the latter stood by his comments.  An EAM media statement surfaced on Friday morning in response to an international newswire report that quoted Mr. Rambukwella as saying Sri Lanka imports Iranian crude oil from "third parties" to circumvent US sanctions.
"We have been buying (Iran crude) from third parties," the Minister told reporters at the news briefing that follows the weekly meeting of the Cabinet of ministers. "But we have had some understanding with the US as well," declared a confident Rambukwella. He also helpfully clarified that this was "not the quota" permitted to Sri Lanka under US sanctions that prevent countries from conducting business with Iran. "This is in addition to the quota," he asserted. "For instance, Malaysia supplied what happened to be Iranian oil. It is a very close secret."
"I hope you know what you are saying," an astounded journalist remarked. It was not every day Cabinet ministers announced at news conferences that their Government was using subterfuge to bypass international agreements. "No, no, I know," he can be heard replying in the news conference recording which the Sunday Times holds. "I know the gravity of it and I have been talking about it. Not now, but when the first shipment came in through the third party, I made my comments on that," declared Rambukwella.
After the story was published by a news agency, the EAM — and not Mr. Rambukwella's own Media Ministry — stepped in for damage control. It hurriedly released a statement that said: "The attention of the Ministry of External Affairs has been drawn to a Reuters news item attributing to the Government Spokesperson and Minister of Mass Media and Information Keheliya Rambukwella that Sri Lanka imports Iran crude oil via third parties to avoid sanctions. The Government of Sri Lanka categorically rejects the contents of this news item as being wholly incorrect and devoid of truth."
What is the difference between Minister Rambukwella and the Government of Sri Lanka? It is like what one hand gives is taken back by the other. But if it had wanted its statement to be treated with any degree of seriousness, the EAM should have discussed its strategy with Mr. Rambukwella. Within a few hours, the Minister had rejected the EAM statement and reiterated to the news agency that he stood by what he said.
With contradictions abounding, it is not clear who is in charge of External Affairs, governance or of anything else anymore. Meanwhile, the United States stepped into the melee. "We have categorically denied there was any deal or understanding on the shipment of Iranian oil to evade sanctions," a spokesman said. "Quite the contrary, we have always told them they had to comply. In fact EAM put out a statement this morning contradicting Rambukwella's comment."
So what did the Minister say at the news conference? After announcing that the Ceylon Shipping Corporation would be acquiring a fleet of ships so that it could exclusively transport coal and crude oil, he was asked whether the move had anything to do with the US sanctions.  He replied in the negative. He then said that oil was being towed under different names to "X place" and "from that "X" place it has been delivered to Sri Lanka on numerous occasions."
The Minister was asked by journalists to clarify whether he was referring to Iranian crude — and that Sri Lanka was, in fact, buying Iranian crude from third parties instead of directly. "We have been buying from third parties," he said. "But we have had some understandings from the US as well. We have been working both ways."
He also said that wherever there are sanctions "the third party gets involved". Even if there were sanctions in "whatever country", Sri Lanka needed the oil. "You have strategic moves to have oil," he continued. "There can be numerous ways you get the oil. At the end of the day, you need oil and then our refinery is for this…the crude…is from Iran. Other things, they have sulphur problem and some other issues."
Mr. Rambukwella could not immediately say how many such ships — with Iranian oil from third parties — had arrived. "I have no idea but from time to time it was news," he said. "Third parties have been bringing oil because we have been having an understanding and agreement with the US authorities."He once again specified that this was in addition to the quota. "You know, Malaysia supplies Iranian oil," he said. "It is a very, I would say, a sort of close secret and has become an open secret now."
When the official spokesperson of the Government of Sri Lanka is publicly contradicted by another Ministry, where is their credibility and who believes in them? Who is saying the truth?
---
UPFA member woke up with a bang
Any time is tea time in Sri Lanka said a slogan that promoted the country's invigorating tea. Some of the country's politicians appear to be vying with each other to outdo this with a new one — anytime is sleep time for them. One could perhaps not blame them too much, for their workload day and night is heavy.
The Western Provincial Council was in session this week. Janatha Vimukthi Peramuna (JVP) member Dr Nalin Jayatissa was speaking on the ethnic violence in the southwest. He called for a Government ban on extremist groups.
His colleagues and those in the Opposition banged their hands on the table for many seconds. And then, they were surprised. UPFA member Upali Kodikara, who acts for the Chief Minister, joined in the banging of the tables. It took a while for them to realise he had just woken up from slumber and did not realise what was going on.
---
Who is paying Kshenuka's bills in London?
It's not a bilateral or a multilateral event that has taken Sri Lanka's External Affairs Ministry Secretary Kshenuka Seneviratne to London.
It is for a meeting of the Association of Sri Lankan Professionals in Britain. Ms. Seneviratne had asked the Sri Lanka High Commission in Britain to book a hotel for her. Officials there would not say who would meet the costs of the hotel bill — the High Commission or Ms. Seneviratne. More so when the Association should have paid for her travel and accommodation since she is there for that specific event.
Matters have been made worse by another fact. The High Commission is inundated with calls from British tourists who want to come to Sri Lanka. They were asking whether it would be safe in the light of ethnic clashes in Sri Lanka's southwest. The Bentota tourist resort, just across the river from Alutgama, is popular among British tourists. The High Commission staff had to ask callers to ring later. When they did, they still did not have the answers. Not even with Sri Lanka's External Affairs Ministry Secretary being only a little distance away from the High Commission.
Insiders say High Commissioner Chris Nonis was somewhat uncomfortable. After all, it was only weeks ago that Secretary Seneviratne sent a strong letter to him for leaving station and flying to Colombo without the authority of the EAM.
---
Shavendra gets another extension
Sri Lanka's Deputy Chief of Mission to the United Nations in New York, Major General Shavendra Silva, a serving Army officer, has been granted another extension of service for a year. He holds the rank of Ambassador and was given a previous one year extension. The extension of service came on a recommendation from External Affairs Minister G.L. Peiris.
---
Questions over Grero's pre-school copybook
It was a news briefing given by the Government's Department of Information. The reason — Deputy Education Minister Mohan Lal Grero was to speak on how he plans to improve pre-school education standards.
The venue, however, gave the show away. It was to be held at the Lyceum International School in Nugegoda, one of the chain of such schools owned by Mr. Grero himself. Some Education officials were asking whether the plan was to promote pre-school education in the private chain.
---
Zoo Minister in political circus
A group of UNP MPs visited the National Zoological Gardens in Dehiwela on Thursday on an inspection tour.  They were greeted by Zoo Director Anura de Silva who showed off a new born lion cub. He allowed them to pet the cub.
However, the MPs were unaware of what took place before they arrived at the Zoo. Director de Silva received a telephone call from Wild Life Resources Conservation Minister Wijith Wijithamuni Soysa. "Show them around but don't show them everything," the Minister instructed much to the amusement of some media personnel who overheard the order.