Verbal battle in Cabinet over southwest violence
By Our Political Editor
President accuses Hakeem, Bathiuddin of making provocative statements; but Muslim ministers defend their conduct
View(s):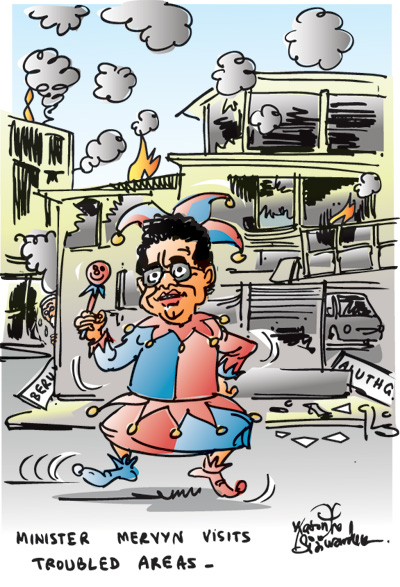 With items on the agenda cleared at last Thursday's weekly ministerial meeting, the participants stood up to leave. Just then President Mahinda Rajapaksa intoned "inna, inna thava deval thiyanawa katha karanna" or "stay back, stay back, there are more things to talk." Thus began a heated discussion on last week's incidents in and around Alutgama. When it was over, another stormy session followed when partners of the UPFA (United People's Freedom Alliance) met at the same venue, the Presidential Secretariat.
The cause for all this was a Poson Day (June 12) incident that triggered violence in the days to follow. A Buddhist monk and his three-wheeler scooter driver alleged that a Muslim motorcyclist had abused and assaulted them on a narrow road at Paththagoda off Dharga Town. They had been on their way to a religious ceremony. When the monk gave this as the reason for his delay, crowds who waited escorted him to the Aluthgama Police Station. A complaint was lodged. Police arrested the motorcyclist and two others. They were remanded till June 25.
Angry mobs went on the rampage attacking shops and houses belonging to Muslims. Worst hit was Dharga Town, a Muslim village surrounded by Sinhala villages on all sides except the Bentota River on its eastern front. The most common approaches to this village are from Aluthgama (midway between Colombo and Galle), which is a five minute drive or from Welipenna interchange in the Southern Expressway. Many Muslims in the village are businessmen, some owning shops in Aluthgama Town. This is whilst a younger generation has found lucrative employment in West Asian countries to return to build new houses. Muslims hit back damaging a few shops and houses owned by a Sinhala businessman in Dharga Town and attacked passers-by. Jathika Hela Urumaya (JHU) General Secretary Patali Champika Ranawaka was there on Thursday providing financial assistance to affected Sinhala families.
Things were to exacerbate three days later. This was after Ven. Galagoda Aththe Gnanasara Thera, General Secretary of the Bodu Bala Sena (BBS), made a strongly-worded speech at a crowded meeting in Aluthgama town on Sunday (June 15). When it ended, those present were to escort the assaulted priest, who was at the meeting, to his temple in Dharga Town. They allege they were pelted with stones from crowds near a mosque, an issue that has generated a dispute between the two sides.
Later, more violence broke out. Shops belonging to Muslims along the Galle Road in Beruwala, in Dharga Town and Welipenna were attacked, burnt or looted. The worst hit was Dharga Town where houses and a few mosques were damaged or destroyed. Muslim mobs retaliated and the violence increased. At least four were killed and nearly 60 wounded. Troops were rushed to supplement Police and Special Task Force (STF) commandos who were deployed, under a prolonged curfew, to bring the situation under control. That included the Army and the Air Force. Details of how the incident occurred appear elsewhere in this newspaper.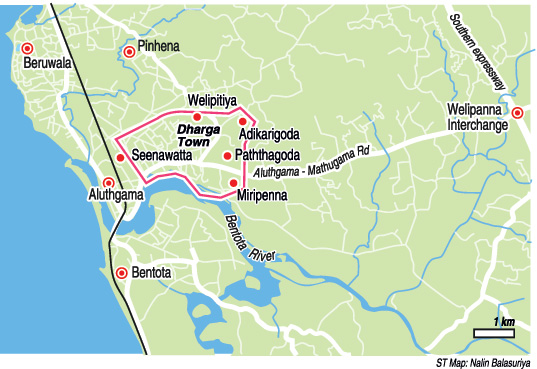 President Mahinda Rajapaksa was away in Bolivia to attend a meeting of developing nations. Defence Secretary Gotabaya Rajapaksa was on a visit to Japan. Ministers who wanted to carry out damage control scurried hither and thither. Transport Minister Kumara Welgama who represents the Kalutara District wanted to halt the meeting at Aluthgama. A day ahead of the event, he telephoned Senior DIG (Deputy Inspector General) Anura Senanayake and urged that it be disallowed. Senanayake replied that he foresaw no problems since adequate security precautions had been taken. He had also said he had obtained assurances from the organisers that nothing untoward would happen. Welgama was the first to phone Rajapaksa in Bolivia.
Soon after the incidents, Sri Lanka Muslim Congress (SLMC) leader Rauff Hakeem sought meetings with heads of missions of West Asian countries represented in Colombo. Their Governments later issued strong statements. One such instance was the Organisation of Islamic Conference (OIC), encompassing a number of Arab countries. He later met US Ambassador Michele Sison and British High Commissioner John Rankin to brief them. In his statements to the media, Hakeem declared that the SLMC would decide its future in the UPFA Government only after awaiting the action it would take. He said he was "ashamed" he could not "help my people." However, in later remarks, he said the SLMC would not quit the Government. These meetings and media remarks were to incense some UPFA leaders.
Rajapaksa telephoned Minister Hakeem on Wednesday, just after his return. The conversation was first on the incidents in Aluthgama and its outskirts. "Sir, I told you about the Bodu Bala Sena a long time ago. They have been causing the problems." Responded Rajapaksa, "This happened from all sides. There were provocative circumstances. Do not go on raising issues." Rajapaksa was critical about the role of Central Provincial Councillor Azath Salley. He had written to Police Chief N.K. Illangakoon not to allow the meeting in Aluthgama and made media statements. Intelligence reports to the Government had said Sally was one of those behind Muslim shop owners putting up shutters on Thursday in a day long Hartal.
Hakeem was to tell Rajapaksa thereafter that the SLMC parliamentarians would not vote in Parliament for the Government's resolution against the UN conducting an international investigation into alleged war crimes in Sri Lanka. It was only on Wednesday that Hakeem publicly made an appeal to the Government to invite a UN Rapporteur on freedom of religion or belief, to visit Sri Lanka. The resolution was passed with all Government MPs voting in favour. The TNA opposed it, the UNP abstained and the Janatha Vimukthi Peramuna (JVP) staged a walkout. As forecast last week, the Government failed to win the endorsement of opposition parties to its rejection of the probe.
At the Office of the High Commissioner for Human Rights (OHCHR),in Geneva the international investigation team has now been constituted. It will comprise Dame Silvia Cartwright and Maarti Ahtisaari, a former President of Finland and Nobel Peace laureate. Dame Cartwright confirmed this week that she would resign from the Cambodian War Crimes Tribunal to join as a member of the two member investigation team. Ahtisaari, the ninth President of Finland, also served as a Captain in the Finnish Army. Already named as Senior Co-ordinator of the OHCHR international investigation responsible for administrative aspects is Sandra Biedas, a British diplomat. She heads a staff of 12 from OHCHR.
At Thursday's ministerial meeting, Rajapaksa opened his remarks with a reference to Transport Minister Kumara Welgama urging the Police not to allow the Aluthgama meeting. "We have to see what we can do carefully," said Rajapaksa. After hearing that the incidents had occurred whilst he was in Bolivia, he said, he spoke to several persons in Sri Lanka on the telephone. The situation was brought under control only because of his initiative. He did not want to deploy the Army. Their approach to bringing the situation under control would have been different. He did not want a repeat of the Rathupaswala incident. In Rathupaswala in August last year, soldiers shot dead three persons among a crowd protesting against a private factory polluting the water bed in the area. Even during a visit to the Divisional Secretariat in Beruwala (where he chaired a meeting), Rajapaksa said there were calls for the deployment of the Army. He said he had to tell those making the request not to blame him if something were to happen after their deployment. "I agreed to provide the funds and build the houses that were damaged with the help of Army units," he declared.
Hakeem was to seize the opportunity to point out that a Cabinet minister representing the Kalutara District where all incidents occurred had made a request not to allow the meeting but it had been ignored. Hakeem pointedly accused the Bodu Bala Sena (BBS) and asked who gave permission for the conduct of the meeting. President Rajapaksa responded by pointing out that there were a number of incidents linked together. He said all sides should work with responsibility. He said he had asked the Police as to what happened. They had told him that crowds who stood near a mosque in Dharga Town had hurled stones.
Minister Rishard Bathiuddin stood up from his seat to claim that the statement was inaccurate. He said that posters had come up in the area that there would be a procession by the BBS. There was a request to the Police to stop it but it was not heeded. His tone and voice level seemed aggressive. He wanted the President to take action since the BBS insulted even the Maha Sangha. At one point Rajapaksa, who turned angry, was forced to exhort "Kata vahanne…." (Shut your mouth). The President said that Anthawadi Kandayam (extremist groups) were behind the incidents. Rajapaksa said he did not agree with Bathiuddin's comments. If such allegations are continuing to be made, issues cannot be resolved. Every community leader must know how to protect their community. Even Ministers representing such communities should know this. He said he had checked with the Police and they had denied the BBS had anythinng to do with it. The meeting had been organised by the Sasana Arakshaka Sangamaya (SAS) or Council to Protect Buddhism.
Minister Champika Ranawaka was to intervene at this stage to counter claims by his colleague that the BBS was behind the attacks. He said that members of the Buddhist clergy did not go on a procession. They held a meeting with Police protection. When they were leaving, people near the mosque hurled stones. Backing him in the move was Minister Wimal Weerawansa, who returned for a ministerial meeting after boycotting five previous ones. He said Minister Bathiuddin should always view an issue from both sides. He cannot continue to find fault only from one side and ignore the other. The stones were thrown first and that was how the problems began.
A more forceful response came thereafter from Economic Development Minister Basil Rajapaksa. He noted that Hakeem was the Minister of Justice. The case of the three suspects who allegedly assaulted the Buddhist monk was pending in courts. When this was so, the Justice Minister, he charged, was not only making unacceptable remarks but was also criticising the Police. He said that it placed the Government in poor light. Hakeem replied that he was only speaking the truth.
At one point, he turned to Minister Hakeem again. Rajapaksa pointed at Hakeem and said "I saw you talking to the US Ambassador." He was alluding to photographs in the media about Hakeem with Ambassador Sison when she met him after the recent incidents.
"I know she is friendly with you. Don't betray the country," Rajapaksa warned. Hakeem defended himself saying he met the Ambassador because she was friendly and had only "exchanged views." Rajapaksa said Ambassador Sison had written to the External Affairs Ministry recently warning that incidents like this could occur. It is very clear from this that the United States was in the know. "We must therefore accept that there is an international conspiracy. Thus, blaming the Government is wrong. This has not been done by the Government," Rajapaksa said. Hakeem was to add that he would place the blame on the Police. This is not the first time that the Government has said there was an "international conspiracy." Similar accusations have been made on previous occasions too.
Rajapaksa, in a light-hearted remark, said when he visited Bahrain in April, he was honoured by King Hamad bin Isa Al-Khalifa. He now wondered whether such an honour would be withdrawn. External Affairs Minister G.L. Peiris joined in soon to say how well the President was received and the grand reception accorded in his honour. In his parting words, Rajapaksa said he would not take any side, neither the Sinhalese nor the Muslims. "As the President of Sri Lanka, I must look at all sides. All are finding fault with me. We must work together and not put religion in front," he said.
Rajapaksa was to note that Tamil issues were raised when Navaneethan Pillay was the UN Human Rights Commissioner. Now that she had been succeeded by a Muslim (Jordan's Prince Ra'ad Zeid Al-Hussein), Muslim issues were now being raised. There would be groups that would want to lobby him.
When the ministerial meeting ended, partners of the UPFA waited behind for what will now be their weekly meeting with Rajapaksa. There was a heated exchange between Hakeem and Minister Rajapaksa. He accused the Justice Minister of rousing people. Central Provincial Councillor Azath Salley figured again. He was the main man behind Thursday's Hartal it was said. "You should issue a statement dissociating yourselves with Salley's Hartal," President Rajapaksa told Hakeem. Calling the BBS' action fascism, Minister Vasudeva Nanayakkara was to remark that if they wanted to deal with Salley, they should also deal with Ven. Galagoda Aththe Gnanasara Thera.
"If there is a problem, take them into custody," he said. Nanayakkara was to accuse his colleague Minister Patali Champika Ranawaka of trying to save the BBS. A heated exchange ensued prompting Ranawaka to tell Nanayakkara, "You keep your opinion to yourself. I will do what is right. You cannot change me." He added, "We know where you stand." In a related development, United National Party's (UNP) Political Affairs Director, Mangala Samaraweera, in a statement yesterday charged that the BBS was a Government-backed organisation. He said the BBS was fuelling ethnic tensions.
Minister Bathiuddin repeated his accusations that the incidents were sparked off after the meeting and the procession. Minister Weerawansa was to re-iterate that there were no such processions. He said a meeting was held and thereafter the people dispersed. Mobs hurled stones at them, he alleged.
President Rajapaksa said that without taking into consideration which religion they belonged, the lawbreakers should be punished. He said he had directed that immediate measures be taken to ensure unity among all communities. Those taking part in the meeting of UPFA partners were Basil Rajapaksa, Susil Premajayantha, Nimal Siripala de Silva, Dinesh Gunawardena, Champika Ranawaka, Wimal Weerawansa, Dullas Allahapperuma, D.E.W. Gunasekera, Tissa Vitharana, Rishard Bathiuddin, Rauff Hakeem, P. Digambaram and Paba Ganeshan.
After Hakeem's appeal for low interest loans for those affected to reconstruct their houses, President Rajapaksa said the Government could not give all. He said a Cabinet Memorandum would be tabled outlining the assistance that would be made available. He also referred to Thursday's attack on Ven. Watarake Vijitha, a member of the Mahiyangana Pradeshiya Sabha and leader of Jathika Bala Sena. He was found near a bridge at Hirana, near Bandaragama, with hands and legs tied. It was later discovered that that vital parts of his body had been slashed with a blade. A fellow monk who visited him at the National Hospital in Colombo asked where his Police security was when he was abducted. Ven. Vijitha replied that they were withdrawn after US Ambassador Sison had made a call on him.
Earlier, when the ministers took up for discussion items on the agenda, there were some tense moments too. One came when Minister Keheliya Rambukwella raised issue over a circular Education Minister Bandula Gunawardena had issued. In that, he has directed that students from international schools should not be admitted to GCE (Advanced Level) classes in state-run schools. Many students and parents had encountered difficulty in admitting their children since grades in most international schools were only up to GCE (Ordinary Level).
Minister Rambukwella was to argue that it was not fair both by the parents and the students. Backing him was Minister Rajapaksa who observed that there were a number of international schools in the Gampaha District. An argument ensued between Rambukwella and Gunawardena. "Oya Mey Amathiyanshaya arang karanna, (you take over this Ministry and run it)," exhorted Gunawardena. Making another point, President Rajapaksa said the Government wanted to make sure that language and culture were taught at international schools. Minister Weerawansa, to whom his colleague Gunawardena is beta noire observed that if students were to be kept out of state-run schools, such a decision would have to be made by the Cabinet of ministers. It could not be decided unilaterally by the Minister of Education. Rajapaksa intervened to say a further discussion should follow.
Two ministers from the Kandy District — Keheliya Rambukwella and Mahindananda Aluthgamage — were to raise issue over a housing project undertaken by Weerawansa's Ministry of Construction, Engineering Services, Housing and Common Amenities at Pallekele. They said the local authorities in the area were not consulted in keeping with the laws. Weerawansa was to intervene to point out that approval from the Urban Development Authority (UDA) had been obtained and there was no need to consult the Pradeshiya Sabhas. An angry Rajapaksa was to turn to Cabinet Secretary Sumith Abeysinghe and direct him to place on record that henceforth no such approval was required from the UDA.
Another matter that was to cause concern was a proposal by Agriculture Minister of Mahinda Yapa Abeywardene with a virtual INGO (International Non- Governmental Organisation). He wanted the Government of Sri Lanka to sign a Memorandum of Understanding with the The Asian Vegetable Research and Development Centre (AVRDC). The centre is described by Abeywardene as a "non-profit making international organisation operating upon grants from various countries" and assist agricultural research and development of its member countries. He says this organisation was established in Taiwan and has six regional offices and adds that "its main functions are production of high quality vegetable varieties, conservation of vegetable germplasm, sustainable production, crop diversification, nutrition security and value addition."
"Meka bayanaka vedak (It is a frightening thing)," declared Rajapaksa. He said he had directed that the memorandum be withdrawn. The introduction to the MoU highlights its serious nature. It says: "In order to facilitate the efficient and orderly conduct of AVRDC's vegetable research and development programme in Sri Lanka, the Government shall, through and in accordance with the provisions of this Agreement, provide all possible assistance and support in order to ensure that AVRDC's work will be facilitated for the benefit of the country as a whole. Where this Agreement imposes obligations on the appropriate Sri Lankan authorities, ministries and/or governmental department, whether federal, state or local, the Government shall have the ultimate responsibility for the fulfilment of such obligations by the appropriate Sri Lankan authorities.
"AVRDC and the appropriate Sri Lankan Authorities shall agree on the channels through which they will communicate regarding the application of the provisions of this Agreement and other questions affecting the operations of AVRDC within the territory of the Democratic Socialist Republic of Sri Lanka that may arise from time to time, and may enter into such further agreements as may be necessary to fulfil the purposes of this Agreement……"
A minister who did not wish to be identified pointed out that such an MoU with an INGO should, in the first instance, have gone to the Ministry of External Affairs for determination. That was to discern whether it was in keeping with foreign policy considerations and suitability. This is besides a study on how it would affect local farmers. In this instance, Minister Abeywardene has only argued that it would "increase vegetable production" and bring the country to what he calls "maximum possible highest level in terms of vegetable consumption" which now remains below the recommendations of the World Health Organisation (WHO).
Yesterday morning President Rajapaksa telephoned Minister Hakeem to tell him that some of the public remarks he made were receiving worldwide publicity. He charged that the Government was getting a bad name since those remarks were associated with him as the Minister of Justice. The call came as news reached Rajapaksa that a large business establishment in Panadura, part of a business chain owned by a Muslim, had burnt down. Rajapaksa also referred to the incident. Hakeem was asked what he proposed to do. He requested an immediate meeting with Rajapaksa.
The President said he would direct Secretary Lalith Weeratunga to immediately arrange an Air Force helicopter so Hakeem together with Ministers Rajapaksa and Bathiuddin could fly to Badulla. Rajapaksa is on a two-day visit to Badulla and chaired a meeting of the District Development Committee. The visit comes in the backdrop of the Government stepping up development work in the Uva Province ahead of the Provincial Council elections likely in September. Minister Hakeem has chosen to travel later to Australia as a member of an all-party parliamentary delegation.
It was decided at the discussion yesterday in Badulla that President Rajapaksa will issue a statement. In that he would assert that stern action would be taken against hate speech. He said laws against hate speech would also be expedited. As President Rajapaksa noted, the worldwide publicity, describing the incidents as one of the worst in Sri Lanka's recent history, has been damaging. It behoves not only on the Government but also on all other political parties to have a bipartisan approach to the recent incidents and make sure they do not recur. One need hardly say there are no winners in such a situation.