Silken elegance over the years
View(s):

For centuries, the people of Thailand have been engaged in making silk and are world renowned because of the unique manner in which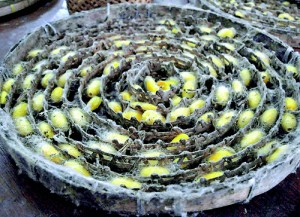 the manufacturing process of silk takes place in the South East Asian nation. Thai silk making is a tedious process but for those who have mastered it, the process seems simple.
When a group of Sri Lankan journalists visited a silk-making factory during a trip organised by the Tourism Authority of Thailand (TAT) recently, they were able to witness the unique process involved in the making of silk.
The process begins with a tiny worm known as a silk moth which lays eggs which subsequently develop into silk worms. The worms are fed on mulberry leaves until they are one month old after which they build a cocoon from their spittle.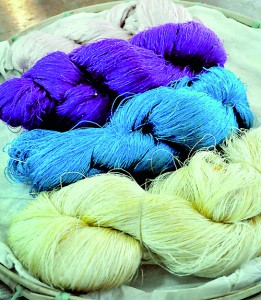 The cocoon is then put into boiling water, and the process of extracting the silk thread begins. The length of silk thread in a cocoon varies considerably from 500 to 1,500 yards, depending on the kind of worm that produced it. The threads from several cocoons are reeled together on a wooden spindle into a uniform strand of raw silk.
It is a time-consuming process; it takes about 40 hours to reel one and a half kilograms of silk but over the years some families have simplified the job by using a reeling machine. The majority, however, still use the traditional method, which produces three grades of silk: two fine ones suitable for lightweight fabric and a thicker one used for heavier material.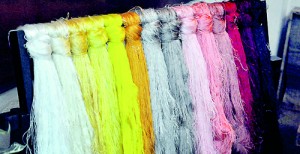 The silken thread is then soaked in hot water to remove seracin, a protein emitted by the silk worm. As the Thai silk yarn is yellow it is bleached before dyeing and this is done by immersing the skeins in large tubs containing hydrogen peroxide, after which they are washed and dried in the sun.
The Thai silk is then woven on a handloom is, much sought after the world over for its quality and wonderful designs.