People and events
View(s):

Music and dance to celebrate diversity

By Dhananjani Silva

It is to say 'thank you' to his mother who celebrates her 100th birthday, that Ranjan (he goes by that name alone) took to organising a variety show of song, dance and piano music under the theme 'Love, Human and Divine'. The show will raise funds for a home for differently-abled children in Kotte, started by one of his uncles.

The show, on June 18, will be held at No. 78, Samudra Hotel Galle Road, Colombo 3 (opposite the Cinnamon Grand) at 6.45 p.m. The event will give music fans, what Ranjan terms a unique experience they have not had before- that is in terms of 'continuity'.

"There is no concept of continuity in Sri Lanka when it comes to stage. Half the time, the audience is kept waiting, expecting something to happen. As I have worked to international standards, I have made sure that my show is seamless, so continuity is assured. The audience will not be kept waiting while they are changing scenes. It is a selection of songs and dance," says Ranjan.

The show will include two 'love dances'. One, he says is a 'diversity love dance' between two boys while the other is a dance between a man and woman. Well known dancer Kapila Palihawadana will be one of the artistes. Ranjan will also be playing some pieces on piano, and there will also be several anthems –to Mother Earth, King of Heaven, Queen of Heaven and to the Sun. Meanwhile the differently-abled children from the Home will perform a thought provoking song and dance item. "Instead of giving them a dana, the idea of doing something like this is to give these differently-abled kids an experience that they have not had before. They enjoy getting involved in the show and taking part in the rehearsals. It is a unique outing for them. To come and dance," says Ranjan.

Diversity has been one of Ranjan's main efforts. "There are Tamils, Muslims, Sinhalese, Burghers, gay, transgendered and handicapped people involved in my show. It's sad that people tend to ignore them in our society. But this show will celebrate that diversity," he adds.

Ranjan who has had operatic training in London and Chicago, has performed for the President of Liberia in Monrovia in 1967. Healing being his profession, music he says, is a part of his professional work.

"There is a harmonic relationship between music and our body. Listening to music can change your physiology," he adds.
He has undergone training under many local and international music veterans including local stalwarts Mary Anne David, Peshali Yapa and Menaka De Fonseka Sahabandu.

Overall music direction of the show is done by Greg Pallegama, while lighting is by Event Production.

Details regarding tickets could be obtained via email; 13.ranjan@gmail.com or telephone 0770415080.

A song for the rainforest

For the very first time, Wildlife & Nature Protection Society will hold a concert to raise awareness and conserve the rainforest on Sunday, June 29 at the Bishop's College Auditorium. Featuring Alien Accent, the Green Tear Concert, a charity fundraiser to save our rainforests, places the spotlight on the world heritage site Sinharaja with its high biodiversity and large population of endemic plant and bird species.

With almost all of Sri Lanka's endemic flora and fauna confined to rainforests, the WNPS is collaborating with Alien Accent, whose message-oriented music has gathered a large following, to cascade its 'Save our Rainforest' message. Alien Accent comprises Dillain, Suresh and DK.

Explaining their enthusiasm at being the messengers to save Sri Lanka's rainforests through their music in this Green Tear Concert, Dillain said, "Alien Accent is happy and privileged to perform at this unique ground breaking event.  All of us feel deeply towards this cause and we have been rehearsing for the past two months to ensure that our music will do justice to this cause.

Please be there to hear us perform and support this concert".

Tickets for the concert are priced at Rs Rs 2,000, Rs 1,500 Rs 1,000 and Rs 500 and are available at the Bishop's College Auditorium.

Alliance Francaise: A journey of success in Sri Lanka

By Vinusha Paulraj

The Alliance Francaise network which has been around since the 1950's started out in a small space in the busy heart of Pettah according to the President of their newest branch Alliance Francaise de Kotte, Chandra Wickramasinghe. Initially just a recreational space for French nationals and the French speaking community, it has now spilled over the four walls of many previous addresses, inevitably becoming a network centred not only in Colombo but other parts of the country as well.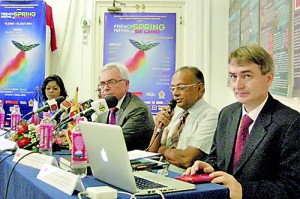 As a little boy Chandra Wickramasinghe recalls starting to study French at a Ward Place address the Alliance occupied long years ago and today sits as President of the newest addition to the network in Colombo. The Alliance Francaise de Kotte in Colombo is currently down Keppetipola Mawatha, Colombo 5 and the new premises was ceremonially opened by the Minister of Education, Bandula Gunawardena in the presence of distinguished guests on June 5.
Speaking at the opening Ambassador of France to Sri Lanka and the Maldives, Jean-Paul Monchau said the functioning of the Alliance in Sri Lanka included it being the main partner and operator of the cultural diplomacy of the Embassy of France. "If you want to learn French, you've come to the right place," he assured.
In the context of Sri Lanka's rapid economic growth the Ambassador said, learning French would be an immense advantage for the youth of the country be it in terms of promoting international relations or even translating for tourists. Some 65,000 French tourists visited the island last year.
General Delegate of the Alliance Francaise in Sri Lanka and Maldives who is also the Director of the Alliance Francaise de Kotte in Colombo, Alexandre Martinez was pleased to announce the third Spring Festival. Together with the Ministry of Culture and the Arts, The Alliance Francaise de Kotte in Colombo will launch the Festival 2014 with the music of Bel Plaine- a French band on June 19 and close it with a science exhibition from July 4-14 in the Colombo area. Events held in Kandy, Matara, Jaffna and Galle are scheduled to continue up to July 22.
Harold Jansz, President of The Old Peterites' Group of Pre 1970
Harold Jansz was elected President for 2014/15 at the Annual General Meeting of the Old Peterites' Group of Pre 1970, held on May 30 at St Peter's College, OBU House, with over 60 members present. The outgoing President , Retd. Major Jayantha Atapattu thanked the committee and members for all the support.
The incoming President Harold Jansz, said he intended to provide more opportunities for fellowship, build on the scholarship programme and attract more Peterites to join the group. He sought the support and continued generosity of the members to achieve these objectives.
The following were elected to the Committee for 2014/15:
President: Harold Jansz
Senior Vice President: Harindra Sirisena
Vice President: Algi Wijewickrema
Hony. General Secretary: Malcolm Atton
Hony. Treasurer: Nihal Wijeratne
Hony. Asst. General Secretary: David Crusz
Hony. Asst. Treasurer: Srinath Fernando
General Committee: Hilal Abdullah, Eraj Balasuriya, Anton Blake, Howard Daniels, Ranjith de Silva,Stanley Lumanauw, Rodney Martenstyn, Cyril Wijesena
Immediate Past President: Rtd. Major Jayantha Atapattu.