Letters
View(s):

Highway land robbery by the RDA

Under a project funded by the Saudi Government, the Road Development Authority (RDA) is repairing the four-lane Kandy Road from Peliyagoda to Kiribathgoda.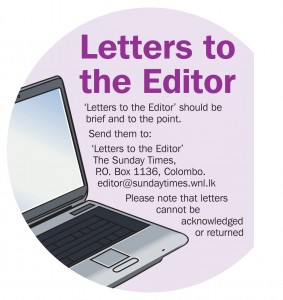 At Hathare Kanuwa, Thorana Junction and Kiribathgoda town, the road is being widened to construct six lanes and the RDA is acquiring land from private property owners. However, the land already acquired by the RDA by getting owners to demolish their boundary walls, sections of their houses, shops or offices is much more than what the road project required. This is shown by the yellow line which is outside the RDA boundary lines.
Taking over people's lands in such a highhanded manner is a human rights violation. Most owners are not aware of the law and have given their lands out of fear. The Saudi Government may not be aware that the RDA is taking over land illegally for the project for which it has provided Rs. 1.93 billion. At a time when the United Nations Human Rights Commission is accusing the Sri Lankan Government of showing scant regard for the Rule of Law and human rights, the RDA is giving them more ammunition.
There is no necessity for the RDA to take over private property for the project. Traffic congestion on the stretch from Peliyagoda to Kadawatha has eased after the New Kandy road was built. When the Kandy Highway and the Outer Circular Road from Kadawatha are opened, there will be a smooth flow of traffic. Even a person with a little intelligence will understand that when a three-lane carriageway meets a two-lane one there will be a bottleneck with traffic jams and gridlocks.
The solution is to build overhead bridges at crowded crossings and parking bays for buses at bus stands so that traffic on the main road will not be obstructed. The Traffic Police should ensure that buses, especially private buses, do not wait long at bus stops.
Kelaniya resident
Learning the importance of mathematics
With reference to the article in the Sunday Times recently by Cyril de Soysa, I would like to add a few counters and pointers as regards the subject matter — mathematics.
According to Mr. Soyza's article:
"Out of all the subjects, maths needs complex understanding, reasoning, logical thinking and most with born talent can get top marks."
Recently we were told that 50 per cent of those who sat the GCE O/L (Local) examination last year have failed maths.
Are there only born mathematicians? Or can the mathematical brain be developed?
I have read about a lady from Bangalore who was called the human calculator. She is an astrologer in Bangalore at present.
To my perception, children who play with sand a lot during their early childhood are likely to develop a good mathematical brain. Then the adults around them should introduce them to choice. (Comparative choice and multiple choices respectively.)
They should learn a lot of patience cerebrally. That's why they have been given a square rule book instead of a single rule or blank book. Also, I remember, being a maths tuition teacher, when I have come across a wet blanket in my class, I have said, "Just as there is a thing called back hoe in the universe, there is a similar thing in our thinking as well. So, let it be there until we come out of the problem." Thus, they should be allowed to 'take their own sweet time' to come out with the solution.
Maths is not a difficult subject. It is how we see maths that is questionable. Students have to learn maths as if they are learning a language like English. In other words, maths has to be learnt more through emotion than wisdom.
Mr. Soyza goes on to say: "Lawyers do not need mathematics. Also, you do not need mathematics to be a doctor. The profession needs understanding of non-complex subjects like biology, anatomy and uses standard procedures which are more in memorising and practising nature and cannot be compared with the brains used in a mathematician inventing brilliant equipment or robots."
I cannot quite agree with this pointer. For, being a journalist myself, I have come to terms with the fact that library talent in journalism is nothing but mathematical brain and this is similar to the lawyers' task in law courts. Furthermore, 'editing' in film making has got a lot to do with the mathematical brain and a film director's Mise en scène evolves in the same faculty of the brain viz hypothalamus.
Mahinda Palitharatne
Mt. Lavinia
Don't burn your fingers at petrol pumps
We are cheated some times by petrol pump attendants unless we are observant and attentive. Here are a few methods they adopt to fleece us.
They don't give the change immediately and if you forget and drive off, once you go back they will swear that they gave you the correct balance.
If you ask them to pump in petrol for say, Rs. 6000, they will key in Rs. 5,000 and start pumping. If you don't watch the meter, you will pay Rs. 6,000 and drive away.
When we request a full tank, they pump in a lesser amount – say for Rs. 1,000 — and watch our reaction. If you question them they will apologise promptly and continue to pump without clearing the meter and demand Rs. 1000 more than the meter reading. A confused driver believes him and pays the money.
At times, they involve another attendant to distract our attention. They also pick and choose their victims. Senior citizens are more vulnerable.
One way to avoid being cheated is by switching off the engine and getting down from the vehicle.'
A.G. Weerasinghe
Via email
A Deer hunt that brought Dhamma to the land
Devanampiyatissa, king of Anurapura
Went hunting on a Poson Poya
Silently approached an innocent deer
Grazing calmly not knowing any fear
Hunting in the jungle thicket
Tissa proved his skill and wit
With thrills to him but fear to deer
In hot pursuit of his prey so near
Aimed his bow and arrow straight
With the joy of getting his prey the deer
The deer felt danger lurking near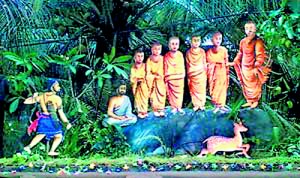 Ran away his life in fear
The King enjoyed the chase that day
He would not give-up his sport anyway
Tired and confused the deer did stop
For just a second to get its breath
This split second was the time
To send the arrow to strike his prey
The deer to fall, the chase to end
King to win, a thrill to him
"Tissa" he heard a voice above
The King stopped in his tracks to look
The deer dashed away his life was saved
Tissa looked up the Missaka hill
On the rock a yellow robed figure stood
He blinked his eyes again to look
Is it a deity, a heavenly God ?
Nearer the rock the King did stop
Arahant Mahinda with his entourage
Ittiya Uttiya Sambala Baddhasala
Sumana samanera and Upasaka Banduka
closer and closer to his awesome view
A dialogue between Thera and King
Started many a question and answer
To judge the intellect of the King
And his understanding of the Dhamma
"Dharmasoka's son am I
From Bharath Desha have I come
With a message from Emperor Asoka
The gift of Buddha Dhamma to this isle"
Bow and arrow thrown aside
Invited the Arahant Thera to Anurapura
Next day for alms in the King's Palace
To make this Isle a Dhammadvipa
Udumbara Udugama