Does your unborn have Down's Syndrome?
View(s):

How many mothers in Sri Lanka know the importance of ultrasound scanning during the first-trimester of a pregnancy to get an indication whether the unborn baby has Down's Syndrome? Very few, points out Consultant Obstetrician and Gynaecologist, Dr. Tiran Dias who is also an Accredited Foetal Medicine Specialist, after a study on 'Knowledge of Down's Syndrome screening amongst patients in Sri Lanka'.

Before delving into detail about the study, Dr. Dias who is currently a Senior Lecturer at the Ragama Medical Faculty tells MediScene that Down's Syndrome comes about due to a genetic problem. It is the most common cause of intellectual disability globally.

To confirm whether the baby in the womb is having Down's Syndrome, what has "traditionally" been done after taking the age of the mother into consideration is an amniocentesis test as well as chorionic villus sampling (CVS) being offered to women over 35 years or more, it is learnt.

However, the disadvantage of considering the maternal age is that as a majority of Down's Syndrome-affected unborn babies are being carried by mothers from the younger age-group, the detection rate is poor. "More than half of the babies with Down's Syndrome are not detected," says Dr. Dias.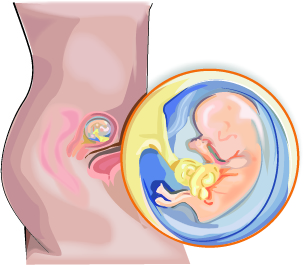 Amniocentesis, meanwhile, which entails the removal of a small amount of fluid from the sac around the baby in the womb and CVS which is also an antenatal test (done between the 11th and 14th week of pregnancy) requiring a tissue sample to be taken from the placenta are both invasive, says Dr. Dias, explaining that chorionic villus are tiny finger-like projections of placental tissue that have genetic material similar to that of the unborn baby.
These tests carry a 1% risk of miscarriage, MediScene learns, even if qualified people perform them. To overcome these risks and also prevent the foetuses of younger mothers from falling through the system and going undetected if they have Down's Syndrome, some countries have introduced the "standard" Combined Test.
This more effective method of screening is based on a combination of maternal age, a biochemical marker and a nuchal translucency (NT) ultrasound scan to measure the collection of fluid behind the baby's neck, says Dr. Dias. "Here we just go by the Mum's age with no cut-off, because if we check elderly mothers only, there is a tendency to miss out on the young ones. In countries like Sri Lanka where there a lot of young mothers, the detection of Down's Syndrome is only 30% because of the age issue," he points out.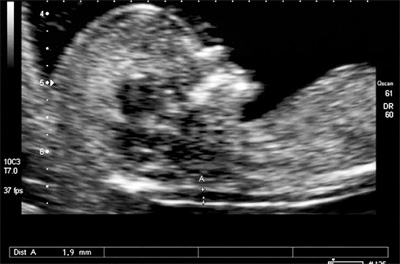 The other screening tools in the Combined Test would include taking a blood sample from the mother to check for certain biochemical pre-cuts of pregnancy (placental hormones free ß-hCG and PAPP-A). These biochemicals in a mother expecting a Down's Syndrome baby would be different to those produced in a normal pregnancy. Here the detection is about 55-60%, MediScene understands, but strict quality standard assurance should come from the laboratory. Otherwise, there may be a wrong test result.
"The other measure is to perform an NT ultrasound scan of the baby in the womb at 11-14 weeks, checking out certain differences between babies with Down's Syndrome and normal babies. This is about 75% sensitive," says Dr. Dias.
According to him the "differences" would include:
NT test would be higher in Down's Syndrome babies than in normal babies.

Presence or absence of nasal bone – in Down's Syndrome babies the nasal bone is absent.

Blood flow of one of the veins to the heart – the Ductus Venosus which connects the umbilical vein to the inferior vena cava would have a higher resistance in foetuses with Down's Syndrome.
The combination of maternal age, biochemistry and foetal ultrasound parameters (Combined Test) has a sensitivity of 92%, adds Dr. Dias who carried out the descriptive study in the form of a pre-tested simplified, self-administered questionnaire in antenatal clinics in eight major hospitals from March to August 2013, to find out the knowledge of both mothers and staff.
The hospitals were De Soysa Hospital for Women and Castle Street Hospital for Women in Colombo; Jaffna Teaching Hospital, Batticaloa Teaching Hospital, Ampara District General Hospital, Peradeniya Teaching Hospital, Maha Modera Teaching Hospital in Galle and Puttalam Base Hospital.
"We found from our study that awareness is poor," says Dr. Dias, adding that only 30% were aware. "Therefore, we need large-scale awareness campaigns as well as allocation of resources and training of care-givers because NT scans have to be done by highly-skilled people as erroneous findings could either under or over-estimate risk. NT scanning has a learning curve which is nearly four to six months training with about six to eight hours daily scanning experience."
Importance of the test
Why do mothers need to know whether the baby they are carrying has Down's Syndrome or not?
Down's Syndrome is the commonest neuro-development handicap among newborns and the mental age of an affected baby when he reaches 20 is about five, explains Dr. Dias, pointing out that if parents know by screening during pregnancy they can make preparations and also adjust themselves both mentally and financially.
"These children also have high risks of physical disabilities and heart problems. If appropriate delivery planning is not done the outcome may be bad," he said.
The Combined Test would be done only after informed consent is taken from the parents.