The genesis of good players
Women's Tennis – French Open 2014
View(s):
There are many phases on the arduous road to be a good Tennis player. Some roads test their mettle and others teach the art of survival. Victory and defeat will roll side by side enhancing the skills and vision of the game. Excitement of survival and celebrations along with the disappointment of failures will be ever present. Those who survive these tests of time will be the ones that reach great heights. That is the 'birth of a player'.
Garbine Muguruza entered the French-Open draw on the merit of being the 35th world-ranked player. In the second round, Muguruza beat the top seed of the draw, Serena Williams. It was sweet revenge for the humiliating defeat she suffered two years ago. 'She plays very well' said Serena at the press conference after her defeat and that proved to be right. Muguruza entered the 1st quarter-final of majors with reasonable comfort. When she appeared for the match against Maria Sharapova, her left thigh and the ankle were strapped. Muguruza's 20-year-old body has taken the toll, playing the four previous rounds. It also showed in her performance.
Muguruza's stunning game plan gave her the first set against Sharapova at 6-1, but not with ease for anyone to take Sharapova's set defeat for granted. In the second set Sharapova, a seasoned campaigner, showed what she is made of. Taking a 2 game lead in the 2nd set after winning the first is a critical factor to win in Tennis. The first three games of the second set took well over 18 minutes. The service game of Sharapova went over 10 minutes in which she survived five break points. At the end, it was Sharapova who was leading 2-1 with a service break.
Power, deep center placement, good reaction speed, big serve and punishing returns were Muguruza's brand of Tennis. These departments worked fluently in the first set for her. Using them again she made the rallies long and led 4-3 in the 2nd set. There was even a 22 shot rally but all that squeezed out the last of the energy from the 20-year-old body and her unforced errors piled up. Sharapova noticed it and in her own style, performed the last rights on tired Muguruza. It was one the most exiting matches of the French-Open from two accomplished players. Thinking about the match, I feel more net play and drop shots to displace Sharapova could have given Muguruza the victory, but then Sharapova with her experience would have had her own answers.
Garbine Muguruza from Spain must have had a long road in Tennis to reach quarter-finals of Roland Garros of 2014. Beating Serena Williams she became a 'giant-killer.' Reaching quarter-finals and taking Sharapova to three sets made her mark. For all purposes of recognition, 'a star is born' and we will hear more about her. She is solid in all departments and is unbeatable when all works well. Ranked 64 in doubles, she is also in the semi-Finals doubles partnering Carla Suarez Navarro.
Canadian becomes a star
Twenty year old Canadian, Eugenie Bouchard has been giving enough punches to be known as talent and as a top ten prospect. Now, she is the first Canadian ever to reach the French-Open semi-finals. Her game is versatile as her movements are athletic and supple with complete stroke making ability. The variety in stroke-making she exhibits is appealing to watch and her match temperament and maturity shows the long road she has walked, to get here.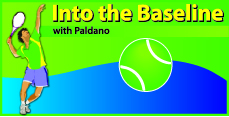 Semi-Finals
The women's semi-final berths are occupied by four different nationalities. The well tested Maria Sharapova from Russia; Canadian Eugenie Bouchard coming through a few close matches; Romanian, Simona Halep, yet to lose a set and can be considered the most improved player in the circuit in the last two years, making her one of the world's best five; and Germany's Bosnia-born Andrea Petkovic also coming through tough matches. After Steffi Graf, Petkovic is the first appearance of a German in the semi finals in Paris. Italian, Sara Errani reached quarter finals of singles and showed how to be good in singles and doubles. Ranked number 2 in doubles, she is in the semi-finals with Vinci as her partner.
Last of the 'giant killers'
Men's display of power and speed, dominated the clay courts of Paris. One reasonably known player became the 'last of the 'giant-killers' of the draw. He is Latvian Ernest Gulbis. He beat Roger Federer in five sets in the fourth round. Probably many, including Federer could not figure out how Gulbis won. The match never showed any lasting trend from both. Then Gulbis raised his game to beat Czech Thomas Berdych in the quarter finals in straight sets. Although statistics did not show the scale of his performance to be very impressive, on court impressions proved Gulbis's game to be effective and solid. Novak Djokovic is his next opponent in the semi finals.
Americas, Asia and Europe
Canadians men and women have made a mark in this year's French-Open. Roanic is the first Canadian in over 30 years to appear in the quarter finals of the French Open. He even served at 260 kilometres an hour. Eugenie Bouchard in the semi-finals firmly established Canada in Paris. Andrea Petkovic with Kholschreiber represented the German Tennis. Gulbis placed Latvia in the Tennis map again. Sloane Stephens showed the US flag prominently. Two Spanish girls, Carla Suarez Navarro and Garbine Muguruza, joined Rafael Nadal to prop up the sagging Spanish Tennis image. Although much was expected from Li-Na of China and Kei Nishikori of Japan in singles, Asian challenge was seen only in the doubles. In men's doubles, Kazakhstan's Andrev Golubev has reached the semi-finals. In the women's world's number one pair Su-Wei Hsieh of Taiwan and Shuai Peng of China are in the semi-finals and are expected to win the title. Watch the final Paris today, there is a good live coverage.
-George Paldano, former international player; Accredited Coach of Germany, ITF and USPTR; National, Davis Cup and Federation Cup Coach–gptennis.ceylon@gmail.com-