Dimitri's cramps in the First Bradby Leg was 'unfortunate'
By Rangi Akbar
View(s):
Watching the Inter-School rugby game between Royal and St. Peter's at the Royal Sports Complex last week was Bernard Gabbei of Germany, Referee and Development Manager of the International Rugby Board (IRB).
"I have been told to hold workshops with referees, coaches and educators of the game in Sri Lanka by the International Rugby Board," said Gabbei during a brief interview with the Sunday Times whilst watching the Royal-St. Peter's game which was refereed by Dinka Pieris where Royal gained an 18-5 win.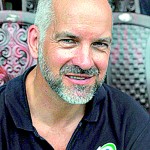 To a question whether he witnessed the Bradby Shield first leg game between Royal and Trinity at the Race Course Grounds on May 10 where Trinity won 28-16, Bernard said that he had seen a video clip of the game. To the next question whether he had seen any referee developing cramps during the last few minutes of the game like referee Dimitri Gunasekera did in the first Bradby Shield clash, Bernard Gabbei said: "These things happen. It is unfortunate that the referee developed cramps during the final stages. But he did continue with the game after being treated." Trinity scored a slender 19-18 win in the second leg Bradby game on May 24 in Pallekelle. This game was refereed by Irshad Cader.
Bernard said that this is his second visit to Sri Lanka and that he was amazed at the facilities available for rugby in Colombo.
Continuing Bernard said that he started playing rugby from the age of nine years. "Germany is a football crazy country and there are a large number of soccer players and fans when compared to rugby. Nevertheless rugby thrives in the country. Right now the focus is on the World Cup Football Competition to be held in Brazil from June 12 onwards. But rugby has caught the fancy of those who love the game and it will never die in Germany."
Most bookies fancy Brazil or perhaps Argentina to win the 2014 World Cup, which begins on June 12 in Sao Paulo. But FIFA 14 publisher Electronic Arts (EA) has other ideas.
In time-honoured tradition, the company (EA) has published a pre-tournament prediction, based on "the award-winning EA Sports football engine that drives FIFA" games. After running simulations of the 32-team tournament, the video game team most likely to win in real life is Germany.
During his stay in Sri Lanka he held several coaching sessions, spoke to several referees and even visited places where rugby is set to boom in the near future, especially Jaffna.