SLMC set to probe dengue death at private hospital
By Kumudini Hettiarachchi
Patient's mother also complains to Human Rights Commission
View(s):
The Sri Lanka Medical Council (SLMC) will probe the dengue death of a 14-year-old patient at the private Neville Fernando Hospital in Malabe, on a complaint of alleged negligence, made by his mother.
We received the affidavit complaining about the death of Kavisha Wickramaratne this week and will initiate inquiries, said SLMC's Acting Registrar Dr. H.M.S.S.D. Herath.Kavisha's mother, L.A. Kanthi Lanka Kumari, has also lodged a complaint (No. 2099/14) with the Human Rights Commission on May 21, the Sunday Times learns.
unbearable anguish and sorrow tinged with frustration and anger were evident when a small crowd of placard-carrying and slogan-shouting family members, led by a weeping Kumari and her mother, on Wednesday afternoon demanded the list of medications and injections that were given to their "beloved Kavisha" while he was at the Neville Fernando Hospital.
At the entrance to the Neville Fernando Hospital were a large number of police personnel, hospital staff and a knot of passers-by as well as villagers, while the hospital's Marketing Department Head, Harsha Subhashana distributed a statement signed by him to the media.
"We came in protest because earlier this week the Neville Fernando Hospital refused to tell us what they gave my son," lamented
Kumari.
According to the hospital's statement the medications given to Kavisha amounted to Rs. 128,000 and "ennath" to Rs. 57,000. It was unclear whether "ennath" meant vaccinations or injections.
Later at Kumari's home on Katuwawala Road, Neelammahara, Boralesgamuwa, she relived the trauma of seeing her only son die. She has two other daughters one older and one younger than Kavisha.
Kavisha turned 14 years on May 8, while in the Neville Fernando Hospital, she whispers as her body is wracked by sobs.
Their tragedy had begun on May 5. With Kavisha's fever not going down on the third day and the boy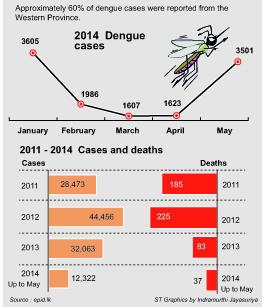 complaining of a headache, it had been to Sri Jayewardenepura Hospital — where they usually seek treatment – that they took him to. They had on May 4 sought treatment from a private dispensary close to their home and been told that a blood test should be done on the third day of fever.
"It was around 12.30 p.m. that we took Kavisha in a three-wheeler to the Emergency Treatment Unit (ETU) of Sri Jayewardenepura Hospital," says Kumari, explaining that the doctor there took no notice of her son until a minor employee told her three times that he should be examined. Thereafter, some nurses who were not in uniform fixed a cannula and started a saline drip. Telling Kumari that the "ward doctor" would come, the ETU doctor had left.
When the "ward doctor" came, she checked Kavisha's fever and ordered a blood test and when the results arrived informed her that he had dengue, says Kumari, adding that she then told them that as the nurses were on strike they had been ordered by the hospital authorities not to admit any patients. Kumari, however, alleges that she saw some patients being admitted.
The "ward doctor" then advised them to take Kavisha to the Neville Fernando Hospital. "We didn't know how to go there and she gave us specific directions," says Kumari.
As it was raining heavily, a relative had asked the doctor whether she could not send them in a hospital vehicle but that request had been refused. After finding a three-wheeler in the downpour, they had taken Kavisha to the Neville Fernando Hospital, realising that he was bleeding from the point where the cannula had been removed. Once they told him to hold his hand up, the bleeding stopped, says Kumari.

When contacted by the Sunday Times, as to why a doctor at Sri Jayewardenepura Hospital directed Kavisha to the private Neville Fernando Hospital and not a government hospital, its Director Dr. S.A.K. Gamage said that they have held an inquiry into the incident and submitted the report to the Health Services Director-General Dr. Palitha Mahipala.
Kumari also alleges that when they admitted Kavisha to the Neville Fernando Hospital, around 4.30 p.m. on May 5, her child was used as a guinea pig.
A lumbar puncture was performed that day itself, while until his death groups of students would make him bend his head, not once but many times, scrape his soles and do various other things to a very ill child who was in the Intensive Care Unit, she charges.
On May 6, when she pleaded with them to discharge Kavisha so that she could take him to the National Hospital, they insisted that he was in a critical condition and should not be moved. Then, why did they take him along the bumpy and pot-holed road the next day to the Hemas Hospital at Thalawathugoda for an MRI scan of the brain, she asks.
All along they were saying that it was "mole una" (brain fever), says Kumari, adding that on the day Kavisha died (May 10) they told her that he was getting better.
During the five days that Kavisha was at the Neville Fernando Hospital 73 tests had been done on him, according to its statement.
The death certificate issued from Ranala gives the cause of death as: "Cardiac arrest, multi organ failure, Dengue Hemorrhagic Shock."
How is it that my son who walked into the Neville Fernando Hospital came out in a coffin, is the question to which distraught Kumari and her family are seeking an answer.
Meanwhile, several telephone calls by the Sunday Times to the authorities of the Neville Fernando Hospital were futile. Many questions e-mailed to the address given on the statement remained unanswered. The only response to the phone calls was that the information in the statement issued by the hospital on Wednesday should be published.
According to the statement it is a year since the hospital was started and a large number of dengue patients have been treated here and cured. Unfortunately, the only dengue patient who died at the hospital was Kavisha. The hospital took all measures to cure this patient without considering the bill. However, this patient who was critically-ill when he was brought to the hospital passed away despite all these efforts.
Hospital Chairman Dr. Neville Fernando, has informed the patient's relatives that if they have suspicions that there has been some mistake or shortcoming, they should complain to the Health Ministry. The hospital is ready to answer any inquiry, it states.