Ruhuna Uni undergrads to continue agitating for reopening of their campus
View(s):

Ruhuna University students will continue to push the university authorities to reopen their university. The University's Wallamuna campus was declared out of bounds to students of four Faculties situated within its precincts, following a clash between students and villagers.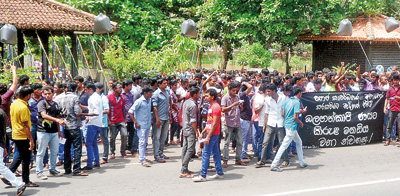 Villagers invaded the premises protesting against the students' opposition to hosting the Deyata Kirula exhibition within the campus premises. Ruhuna University Student Union General Secretary, Ashan Wijelath claimed that students were attacked by the villagers, but two attempts to file a complaint with the police failed, as the police refused to record their complaint. "We finally sent an online complaint to the IGP. Several discussions have also been held with the Vice Chancellor regarding our opposition to hosting Deyata Kirula within the campus," he said.
Federation of University Teachers' Association (FUTA) has also condemned the attack on the Ruhuna Campus students and academics, highlighting the intense negative politicisation of the universities. FUTA President Chandraguptha Thenuwara and a number of academics from Ruhuna University told a press conference that they were being individually targeted. Mr Thenuwara said that a number of Faculty members including Student Advisor Dr B.M. Sumanasekara and Rohan Laksiri claimed that local politicians were involved in the attack, as photographic evidence was available to prove their claim.
However, Higher Education Minister S.B. Dissanayake claimed in Parliament that no such attack inside the campus took place, and that, students or Faculty members had not made any complains to the police or any campus authorities regarding the incident.