Consumers milked by Govt.
By Charundi Panagoda
Giving concessions to importers at expense of the people
View(s):
The Government faces heavy criticism of making money at the expense of the local consumer after reducing a tax concession given for imported milk powder.
The concession was reduced by Rs. 25 effective from last Monday because the global market prices have "rapidly plunged," the Ministry of Finance and Planning stated. The actual tariff is Rs. 125, out of which the importers will now pay Rs. 82.
This concession was given after the Ministry increased the retail prices of powdered milk, given to protect importers from rising global market prices.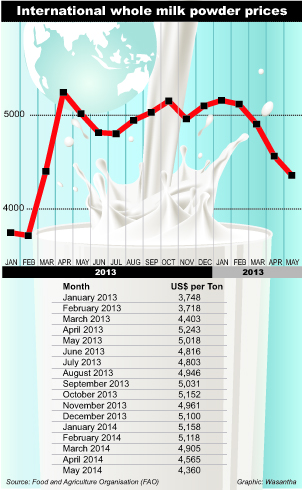 This concession reduction is the latest development in a series of price control controversies for imported milk, an industry that has, for the past several years, been plagued with a chemical contamination crisis, artificially-induced shortages and unsettling fluctuations in international prices.
Critics of the price control measures adopted by the Finance Ministry and Consumer Affairs Authority (CAA) charge that the Government is giving concessions to the importers at the expense of the people who depend heavily on imported milk powder.
"What is the logic behind decreasing the concession all of a sudden by Rs. 25 anyway?" asks former JVP MP Bimal Ratnayake. "These importers profit heavily from global price declines. They form sister companies and receive lots more concessions doing transactions."
"These [concessions and price increases] are unjust economic practices," he charged. "They don't produce the effects the Government says they do. The only change that happens is the Treasury gets another Rs. 25. The ordinary consumer carries the burden."
R. Semasinghe, Finance Ministry's Director General of trade and investment, told the Sunday Times that the effects of the concession "don't go to the consumers; it increases the Government's revenue and strengthens the local milk production industry."
A committee in CAA 'carefully considers' all requests for price increases and only approves them if the reasons are 'justifiable', said CAA Chairman Rumy Marzook.
"The Government is intervening in price control because we feel these companies are trying to fleece the consumer," he added. "That's why the Government plays a pivotal role in it. Price control is there to so that the consumer gets a reasonable price."
Then why don't retail prices for imported milk powder come down with international prices?
One reason is that importers place orders quarterly for their monthly stock requirements, and the stocks arrive in the country months later, explained Rohan Meewanage, CAA's Assistant Director of pricing.
"For example, if an order is placed around May, the stock will reach local shelves around the end of September," he said. "We adjust local prices accounting for global market prices at the time the order is placed. If an importer buys at a higher price, normally we allow a higher retail price. Now that international prices have declined, we are currently in the process of reducing the price of milk powder."
CAA determines international prices from two sources: first from Customs statistics that account for a 'CIS value,' a monthly total sum of purchasing, insuring and shipping costs incurred; then secondly from purchasing accounts of importing companies themselves.
For some, Government price control is part of the problem why benefits of lower global prices never reach the consumer. Imagine a scenario where the market prices have gone down, so the importation costs are low but the tariffs remain the same, explained Prof. Jeewika Weerahewa, agro-economics department chair at Peradeniya University. The Rs.500 product can now be sold for Rs. 400. Suppose you and I are competing importers. I can now sell my product for Rs. 450 without losses, and consumers flock to take advantage of the lowered price. You, in response, lower your price to Rs. 430. Theoretically, the free market adjusts the prices for the benefit of the consumer.
"Rather than giving relief to the consumers, what the Government is trying to do now is to retain the price in the local economy and tax the margin," Prof. Weerahewa said. "Government wants to collect as much taxes as possible without antagonising importers."
Mr. Meewanage agreed that price controls "should be kept to a minimum, otherwise they dampen competition and disincentivise investment which could lead to unemployment."
But this situation can only occur in a scenario where companies are actually in competition with each other, without any 'underhand deals.' The milk powder business in Sri Lanka is dominated by a handful of companies. Mr. Ratnayaka described the situation as an oligopoly "controlling the market, the prices and the regulatory institutions."
"When it comes to price setting these companies negotiate like cartels," said Dr. Udith Jayasinghe, department head of agribusiness at Wayamba University.
When asked if the CAA is considering any action regarding market domination, Mr. Marzook refused to comment.
Getting out of the powder milk trap
Sri Lanka is highly vulnerable to fluctuations in international prices for milk powder because the country is heavily dependent on imported milk powder. The local production meets only around 20 percent of the demand, while the rest is imported, making tiny Sri Lanka one of the most important whole milk powder markets for exporting giants such as Australia and New Zealand. This leaves the local market highly vulnerable to price shocks caused by global shortages, higher energy prices and climate conditions.
Agro-economic research shows that when powdered milk product prices go up, consumers do not necessarily turn to local fresh milk. Instead, they purchase the product at the higher price, while cutting back on their other expenses.
The biggest problem facing the local diary industry is the 'consumer hooked onto powdered milk', says Chathura Rodrigo, a research economist with the Institute for Policy Studies, an independent public research institution. Even people who milk cows in the morning go home and drink their tea with powdered milk, field researchers say.
"We can't change behaviour, instead what we can do is to provide incentives and create a climate where people are more inclined to consume fresh milk," Mr. Rodrigo added.
With increased research interest and Government patronage, local milk production has increased to 400 million tons per year. The Government wants the country to be self-sufficient in milk by 2016.
"The rate of local milk production is increasing significantly, even accounting for inflation," Mr. Rodrigo said. "If we look at the trends, the production will definitely get close to 50 percent in four to five years, if the Government continues to invest as proposed."
Nestle has stopped importing milk powder: Spokesman
Nestle LankMedia spokesperson Bandula Egodage told the Sunday Times that Nestle stopped importing whole milk powder, except for infant formula, about 11 months ago. Calling the company a 'local multinational,' Mr. Egodage added that Nestle only imports items not available locally, and uses local fresh milk for its products.
Local dairy farmer will always be protected- Johnston
Following are exceprts from an interview with Johnston Fernando, Minister of Co-operatives and Internal Trade.
If local prices go up when the global prices are up, will the local price come down when global prices are down?
If global milk prices go further down, we'll decrease the retail price. We'll eliminate the tax concession too. As always, it'll be done in a manner that will not affect the local dairy farmer.
It used to be local fresh milk prices were higher than imported milk. So some companies mixed powdered milk with water and sold it as fresh milk. But now, even some foreign companies, like Nestle, buy from local farmers. Nestle doesn't import anymore. This is a victory for us.
Frequently, strengthening the local milk industry and decreasing imports are given as reasons for changing prices or tariffs for milk powder. Do these price control measures actually have the intended effects?
Last time, at last we gave the Rs. 57 tax concession only because at the time world market milk powder prices had hiked up to some US $ 5300. Earlier this year, we increased the prices for milk powder and at the same time gave importers a concession because of that.
To say the truth, we increased fresh milk prices from Rs.30 to Rs.50 to strengthen the local industry. Now, fresh milk consumption has gone up with consumers spending over Rs. 90 million, given the shortages and DCD crisis recently. Under Mahinda Chinthana, we undertook several measures, such as importing high yield cows, to boost local production. We have to continue these measures or otherwise we'll be importing sky-high-priced, 400 to 500 dollars worth of milk powder forever.
So now milk powder consumption is increasing; it's gone up by some 89,000 tons. This should be considered a victory towards our goal in becoming self-sufficient in milk in the next four or five years.
The price increases in the past several months were there to protect the local dairy farmer. When we change prices or tariffs we always consider the milk farmer first.
How do you calculate global market prices and adjust local retail prices anyway?
We study the trends in world prices online, from sites like Understanding Dairy Markets [a University of Wisconsin website that provides dairy market information sourced from U.S. Department of Agriculture], among others. We study local prices according to trends seen in world prices. We adjust these world market prices into rupee prices by multiplying by the exchange rate. This way, companies cannot set their own prices as they please.
The milk powder business in Sri Lanka is concentrated among a handful of companies. How do you respond to critics who say this is an oligopolic structure that leads to price hikes?
It's true that there are only a handful companies in the milk powder market. But they can't monopolise. They fight each other.
Plus, now we are cutting down on their massive advertising budgets. Some companies are even suing the Government because we are cracking down on their advertising.