Stevie's spirit of life, love and giving live on
View(s):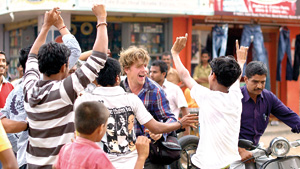 Stevie Graham was fondly nicknamed 'Funkle' by his nieces and nephews for his ability to create excitement and joy wherever he went and for his childlike sense of fun.  Stevie found his life's passion in photography and food. He was a self- taught chef who went on to work in leading restaurants in Europe. During his short career he had cooked for royalty and celebrities and combined his love for adventure, the culinary arts and photography.
In the summer of 2013 Stevie Graham found his way to Sri Lanka working as Head Chef at Park Street Mews in Colombo. He was looking forward to making Sri Lanka his island home and establishing his own restaurant, as he had found joy and a sense of belonging with both the country and its people. His appreciation of the island, the inhabitants and its culture gave him a deep desire to help children especially in the war afflicted areas.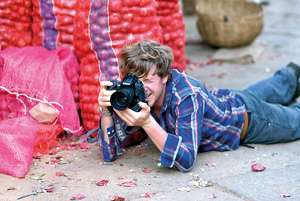 This prompted him to map out an around the island solo bike ride to raise funds for Unity Mission Trust (UMT) which since May 2009, has worked to foster unity, integration, healing and reconciliation between the teenagers and young adults in the Wanni area and their peers from all over Sri Lanka. However, the gift of life is unpredictable. Stevie's efforts to bring joy to the hearts of Sri Lankan youth were cut short when he died tragically on February 7, 2014 in a motor accident, whilst visiting family and friends in the UK.
Born on April 22 1981, the boy Stevie always had a thirst for adventure and by the age of nine had cycled through the Outer Hebrides with his father and younger brother. Aged 11 he had cycled around Ireland. He cycled huge distances, climbed mountains in the Alps, snowboarded through some legendary routes and travelled around the world forming friendships and leaving a lasting impression wherever he went.
While in Sri Lanka Stevie took the opportunity to volunteer and lend a helping hand to a cause he thought was very special! He wanted his efforts to touch the lives of the 4600+students linked into the network of the Unity Mission Trust.  Seeing how passionate Stevie was about the work of the Unity Mission Trust, Stevie's family, together with all those who loved him dearly made a collection of funds, to fulfil Stevie's dream. Their donation to the Unity Mission Trust will fund part of the expenses of the next Unity Projects of the Trust, the one-day reunion programmes, "Zoom-In 6" at Mannar and "Zoom-In 7" at Vavuniya on June 14 and 15.
A spokesman for UMT said they are thankful and appreciative of the vision that Stevie had for Sri Lanka and the generosity of the Grahams. Stevie's unforgettable spirit will be used as an example, to continue to inspire young people, to embrace and live life to the fullest in a spirit of unity, as sons and daughters of one Mother Lanka.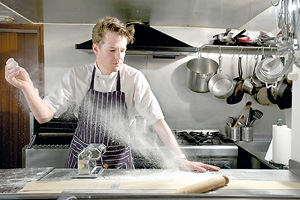 Leadership programme
The Zoom-In Programme conducted by the Unity Mission Trust is a one-day refresher leadership programme that reunites campers from the most recent Unity Camp (Unity Camp 6 – held in September 2013 in Kilinochchi) for leadership and team building activities.  The 7th edition of the Unity Camp will take place from September 25 – 28 in Matara, followed by Ray of Hope-III; The annual AGM of UMT together with the second annual National Unity and Integration Awards in Jaffna in November 2014.
The Unity Mission Trust Team is a voluntary organization with an executive management team, an operations team and a pool of volunteers who come together to support the objectives of UMT and its grassroot level operations.
Find out more about Stevie's Journey of Love at: www.unitymission.lk and on Facebook at: Unity Mission Trust (UMT) and on Twitter @UnityMission.