Certificate of Excellence for Cantoloupe Aqua
View(s):

Cantaloupe Aqua, a private Resort and Beach Club in Thalpe, Habaraduwa was awarded recently by the TripAdvisor® Certificate of Excellence award. The accolade, which honours hospitality excellence, is given only to establishments that consistently achieve outstanding traveller reviews on TripAdvisor, and is extended to qualifying businesses worldwide. Approximately 10 per cent of accommodations listed on TripAdvisor receive this prestigious award.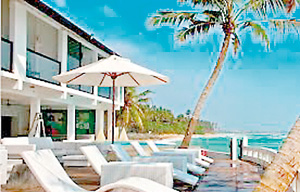 To qualify for the Certificate of Excellence, businesses must maintain an overall rating of four or higher, out of a possible five, as reviewed by travellers on TripAdvisor. Additional criteria include the volume of reviews received within the last 12 months."We are extremely pleased, motivated and inspired to announce that we have won the Trip Advisor Certificate of Excellence for the third year in a row.
While Cantaloupe Hotels is now ready to open its second property, Aqua receiving this accolade has inspired us to strive for the highest level of design, service and standards possible.  We extend our appreciation and gratitude to all that supported us with our first property Aqua and look forward to presenting to you our new evolved design concepts, vision, and service standards in the near future. At Cantaloupe Hotels we have begun our journey in making our fantasies a reality' said Dmitri Jayasuriya , Founder/CEO – Cantaloupe.
TripAdvisor is the world's largest travel site, enabling travellers to plan and have the perfect trip.