Lessons from India: Good governance, reforms and business confidence
View(s):

The new directions in policy of the Indian Government provide valuable lessons for Sri Lanka. The declared policies and initial initiatives of the new Indian government offer useful lessons for Sri Lanka. Minimum government and maximum governance, a climate of business confidence, economic reforms, fiscal consolidation and cutting down wasteful government expenditure are as much needed to revive India's economy as Sri Lanka's.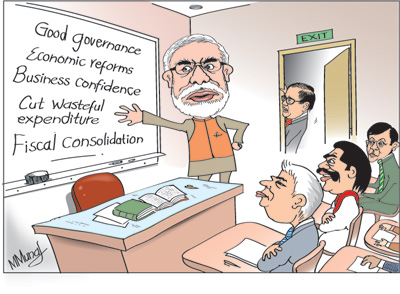 Prime Minister Narendra Modi has stressed on "Minimum Government and Maximum Governance". Both India and Sri Lanka have suffered from excessive state control of their economies and poor governance. If the government's role could be minimised and good governance becomes a characteristic feature of the new administration, it would be a clear break from the past that would have pervasive economic benefits.
India's "permit raj" administration crippled the economy until the early 1990s. Sri Lanka was ahead of India with the liberalisation of the economy in 1977 that removed many bureaucratic controls. In both countries the reform momentum stalled, and in some cases, reversed. Consequently economic growth has slowed mostly due to a decline in productivity. In both countries the vestiges of control remain and bribery and corruption continue to be an integral part of the processes of administration. Modi's insistence on good governance that he has practised in Gujarat is a constructive move for India's development.
The appointment of eminently capable persons to a reduced cabinet is an important step in ensuring efficiency. Modi's instruction that no relatives should be appointed exemplifies the commitment to professionalism in all branches of government. In any event, India's bureaucracy, its foreign service and its judiciary are highly professional and, for the most part, politically independent. For instance, Reserve Bank Governor Raghuram Rajan will not be changed as he is there because of professional competence, not loyalty to the Government, and is able to express views independent of the party in power. In contrast, the administration has become increasingly politicised and consequently inefficient in Sri Lanka.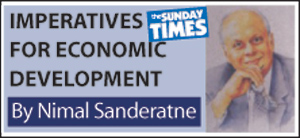 Minimalist government
The least bureaucratic controls there are and the more efficient the administration, the greater the ease in doing business. India's production and productivity would thereby increase. One of the serious impediments to growth in South Asia has been the control mentality of South Asian governments. Modi set an example in Gujarat of minimum state control and reduced corruption. If India is able to emulate this throughout the country, India would be taking a giant step towards economic efficiency that its neighbours too should follow.
The election of Modi has generated much business confidence. This confidence is based on Modi's implementation of pro-business economic policies in Gujarat and certainty that India would follow a similar investment friendly development strategy. Business confidence is likely to bring India a considerable amount of foreign investment that would reinvigorate the Indian economy. It would also result in more investment by Indian businesses and industrialists.
Economic reforms
Enhanced business confidence accompanied by restarting stalled incentive reforms would be key factors in increasing India's economic growth momentum. Economic growth in India cannot be restarted without reforms in labour and land markets and delivery of social services directed to priority sectors, especially in health and education. These two reforms must be undertaken in tandem to sustain growth. Sri Lanka can do well to follow suit.
Whether Sri Lanka will benefit from the reforms in India will depend on a number of factors in Sri Lanka as well. The lack of business confidence and incentive reforms has been key factors in the inability to increase investments, especially foreign direct investment. Is there a likelihood of a change in policies in Sri Lanka that would inspire confidence in foreign investors and local businesses?
Fiscal consolidation
One of the fundamental weaknesses of the last Indian administration was the large fiscal deficits that resulted in generating inflationary pressures. Like Sri Lanka, India's public finances are weak with the consolidated fiscal deficit probably over 7 per cent. Consequently inflationary pressures are high. The control of inflation is a priority that the Reserve Bank of India will continue to address with its high interest rate policy. The reduction of the fiscal deficit by increasing revenue by new taxation measures, cutting down poorly targeted wasteful welfare expenditure and increasing domestic savings are as much a priority in India as is in Sri Lanka.
Wasteful expenditures
The new government is committed to reducing wasteful expenditure. The Congress government increased welfare expenditure with new programmes that were expected to improve the condition of the poor. As it often happens, these benefits did not necessarily go to the intended beneficiaries. It is a policy of the new government to reduce these wasteful expenditures. Its economic strategy is to promote higher growth that would increase employment and thereby reduce poverty.
Whether India's extensive poverty could be effectively addressed by such a policy is a moot question. India's poverty reduction strategy should combine reforms to raise income growth with well-targeted delivery of social services. Reforms to increase growth and employment must work in tandem with reforms to improve delivery of social services. The longer term improvement of India's poverty and social conditions would depend on investments especially in health and education that the poor could access.
Imperatives for development
The new government which inspires business confidence should succeed in increasing domestic as well as foreign investment. This, together with incentive reforms, should increase India's growth from its 4.7 per cent in 2013/14 to a higher level, but whether it would be propelled to the needed 10 per cent to generate adequate new employment opportunities remains to be seen. Minimalist government and good governance should be important factors in reviving the economy. A series of economic reforms that release the potential of India's economy is vital for this growth thrust. The cutting of wasteful expenditure and increased revenue are much needed to achieve fiscal consolidation that is a precondition for India's economic stability and growth.
India's economic recovery would depend on these preconditions, as well as balancing economic interests and different economic groups while bringing about communal harmony. There are vital lessons for Sri Lanka in the unfolding Indian political economy.