Anil- one of the top class referees
By Shamseer Jaleel
View(s):
Former Vidyartha, Kandy SC and national pool, rugby player and former leading referee Anil Jayasinghe who is also a IRB Educator and Coach Match Official (CMO) for the Sri Lanka Referees Society and Asian Rugby Football Union (ARFU). One might surprise most of the sports fans to know that Anil also played Cricket for his Alma-Mater captained both sports in 1984. Once he was awarded as the Best Fielder in his school days. He led his school in Cricket and came in the top 10 most popular cricketers.
Anil played for the Outstation Schools, captained Kandy Sports Club and Upcountry at rugby, was also in the national pool for 4 years. He led the upcountry outfit against the visiting Hong Kong team in the under 24 segment.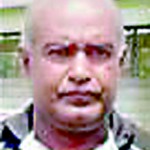 He has made a great contribution to uplift the standard of the game over here in the hills, by his involvement in the fields of refereeing, coaching and administration. He is also present vice president of the Central Province Rugby Football Union (CPRFU). To further his knowledge in rugby and refereeing second to none in the country and already organised some workshops for the up-coming young referees in the Central Province.
He was elected as a committee member of the Kandy Sports Club, and also was ground secretary for 12 long years and maintained and did a lot to make it a top class rugby field. After hanging up his boots, prematurely, Anil Jayasinghe took to refereeing, in 1992, his first game as referee was between CH and FC and Petersons SC and to date he has refereed over 250 games.
As a referee who accompanied the Sri Lanka rugby team overseas and also has blown in many overseas tournaments including 3 test matches. In the field of coaching, Jayasinghe was an excellent reader of the game. He was coached by Gamini Samaraweera, T N K Meeriyagalla, H G Ariyaratne, Charles Wijewardhana at school level and later at Kandy Sports Club by Irwin Howie, late Col. Bertie Dias, Viper Gunarathne (Jnr). Anil has coached his school Vidyartha College, Dharmarajah College, Trinity College both juniors and Seniors, and also Kandy Sports Club, Dimbulla SC in an All Indian tournament. He also has followed Level 2 coaching courses in Scotland, England, and Wales.
Speaking to Sunday Times, Anil said "We need to give exposure for our referees. If we do and try to get overseas guys to officiate we will not move forward. All these kinds of things have been happening due to some power hungry officials holding on to the job for too long and not giving enough prominence to the young referees. Let's give them the exposure and the much needed training, classroom and on the field training for them and organise exchange programmes with other countries. Previously we had a programme with England RFU where Anil, Dilroy Fernando, Roshan Deen and Aruna Jayasekara refereed in UK for 3 weeks."
He ended by saying "there are about 3-4 very good young referees who could go into the ARFU panel very soon with their determination and hard work and let's support them".