Call to enforce school van laws after innocent's death
By Aanya Wipulasena
View(s):
Eight-year-old Tharindu Dilhara Jayakody was a cheerful kid. He was always eager to go to school and wave at his mother and the neighbours while running down the lane to the school van. They remembered him doing the same last Monday morning – but he never came back home.
At 1.45 p.m. the students of De Mazenod College, Kandana, were racing for their school vans, excited to go home. Little Tharindu was among them. Usually he stayed back for gymnastic practice but not that day.
"I was with two of my batch-mates when we saw a broken-down van being pushed towards the slope there. But it was going a dangerous way," 18-year-old Grade 12 student Mishen Perera said, pointing at a small slope inside the school parking lot. He said that it was not the first time this van had broken down.
The van driver of the van was trying to jump-start the vehicle – to start it by a sudden release of the clutch while the vehicle was being pushed, usually down a slope to assist acceleration.
The van was being pushed towards a slope – and towards the school entrance from which other vehicles were entering its premises.
A stone's throw away, at the bottom of the slope, a school van was parked, waiting for students. Tharindu and his friends were walking towards it. The events that followed made time stand still for all the onlookers that day.
"It all happened in a flash. The vehicle that was going down the slope jerked and hit the parked van head-on with a loud thud. We heard school mallila (our school younger brothers) screaming for help," Mishen recalled.
As the moving van smashed into the other vehicle it crushed five students trying to enter that vehicle. Mishen and his friends ran forward and pushed back the jump-started van to pull out the wounded and frantic children trapped underneath it. Tharindu was one of
the five casualties.
"I ran to the place with the seniors to help the injured mallila," said 14-year-old Damian Perera, a Grade 10 student. "I grabbed Tharindu. He clung to me in shock. He held his head and said, 'Aiye, mage oluwa ridenawa' (Brother, my head hurts).
"He then fell unconscious and blood gushed out of his mouth."
Those were possibly Tharindu's last words.
Some of the students were too terrified to go near the two vans. Fourteen-year-old Shane said that this was first time he had experienced such a traumatic event.
With the help of some adults the students put the injured boys into another van and rushed them to the Ragama Teaching hospital. The newly-appointed Director of the hospital, Dr. U.M.M. Samaranayake, said that when the children were brought in, one was in a critical condition.
"The surgeons tried their best but his liver was heavily damaged and he died from internal bleeding," the director said.
The driver, 73-year-old Hendrick Benedict Perera, a former school principal, was arrested by the Kandana police and produced in
court in Negombo on Tuesday. He was remanded until June 10.
A father of three and a resident of Dalupitiya in Kadawatha, Perera started the school van service when he was entrusted with the transport of his two grandchildren, who were also studying in the same school.
A constable attached to the Kandana Police, K.W.S. Wijenayake, said Perera was not in sufficiently good health to be able to drive such a vehicle, especially for the transport of children. "He couldn't walk properly when we saw him and was too old for this profession," PC Wijenayake said, explaining that the driver had an old driving licence that did not require renewal.
"If he had to face an examination to renew the licence I'm quite positive he wouldn't pass it," the police officer asserted.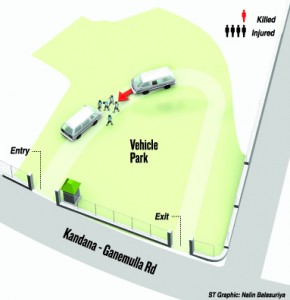 This incident follows several others after the National Child Protection Authority (NCPA) took steps to register and regularise school vans in 2011. In 2012, a speeding school van driven by a 21-year-old collided with a bus in Mount Lavinia, injuring nearly 10 persons including children.
Following this, President Rajapaksa ordered the NCPA to check all student transport. The NCPA initiated to certify the vehicles based on maintenance and other information including that of the driver and vehicle owner.
Commenting on this, an official attached to the NCPA said that the programme had been discontinue. She said private school van and bus owners had refused to comply with the regulations introduced.
The Chairman of All School Children Transportation Association, Mal Sri de Silva, said the Government should take steps to resolve all issues involving the profession. He said that although rules and regulations had beeen introduced most owners and drivers ignored them.
"This is not a very profitable job. Most of the drivers and owners are come from poor backgrounds. The government should look into these problems and provide them with services to maintain standards required in transporting children," Mr. de Silva said. It is also important to note that parents should also take responsibility. The Principal of De Mazenod College, Rev. Brother Bertran Perera, said that parents should be cautious of the school vans and buses they put their children into.
"They should also be aware of the driver and the condition of the van to avoid such incidents from happening again. Tharindu's case was a tragic one. He was talented in gymnastics and could have being a professional gymnast one day," he said.
Monday's accident is full of grief for all concerned.
"Only a parent who experiences an incident like this understands the trauma involved. To get a call that your child met with an accident and was taken to a hospital cannot be explained in words," said Susantha Andrew, 44, a factory employee. His son was among the injured and suffered head injuries.
"No parent should go through an experience such as this. My son survived but the shock is just the same. Life won't be the same to another father after this," he said.