Yashan comes out with 'Synthpop' song- 'I Want It'
View(s):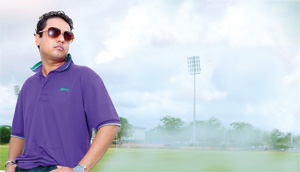 One of the finest hip hop, R&B & pop artistes in the local music scene, Yashan de silva released his newest single this week on radio and web. TV Times met Yashan last week and this is a brief interview with him on his new endeavours.
Tell us some details about your new single?
Title of the song is, 'I WANT IT (Uh La La)' which is an up tempo song with house music elements. We are endorsing a brand new music genre to Sri Lanka with this one called 'Synthpop' also known as 'electro pop'/'Techno pop'. It suits to people who would like to listen to up tempo music, go out, explore, feel & enjoy life.
It has a set of simple lyrics but it's energized with a super catchy tune & feel good musical instruments such as trumpet to make you feel all hyped up.
How do you describe SYNTHPOP?
This style emerged during the late 1970s. A type of dance music with futuristic synths and a lighter electro aesthetic resembling New wave or early electro pioneers but with a simpler pop/rock template often centering around a vocal part. Synthpop somewhat lost its popularity in the mainstream by the early 1990s but has never been dormant. It continues to be a popular style having seen a major resurgence in the 2000s, and remains even more popular now.
Do you want to mention about the team behind this project?
It's a new crew. Music of the song was produced by an extremely talented youngster to the local music arena who goes by the name JACKY VIBES. Another blooming young lad, Shenuka H. Peiris was the one who composed a catchy tune plus he also put a great effort as the recording engineer on this project by arranging, mixing & mastering the track @ SAP studios.
At the moment I'm working on lots of new music with this duo & its going to be a busy year for me.
How's the feedback for your previous single 'HALLELUJAH'?
It was amazing. Never thought that I would be able to make an impact by doing a gospel song. Not just Catholics even Buddhists and Muslims were feeling the lyrics of the song and they were praising about the message which im trying to deliver with it. That's a fact which im really proud of. It was highly appreciated by the judges of DERANA MUSIC VIDEO AWARDS this year.
Credits to Chamath Sangeeth and Rakith Perera who lives in USA for the success of that smashing record.
When can we see your new music video?
I'm trying my best to deliver it out in June. It's going to be an extraordinary one filled up with all glamour and class.
Heard some of the big names in Sri Lanka were featured on your new TV show. How's the feedback?
Hosting is one of my best hobbies. And the feedback for my tv program is always getting better.
Namely, T.M. Dilshan, Lahiru Thirimanna, Lanthra of Doctor, Gayan of Daddy , Lahiru Perera and some of the most popular icons in Sri Lanka were on the show recently as my guests. It goes live on Wednesdays and Sundays from 6.00 pm to 7.00 pm on Siyatha TV.
What's the concept of your TV show?
It's more of a Lifestyle talk show. What I try to do is to deliver my audience an interesting one hour getting my guest to be opened up about their lifestyle & Interests. And we play various types of music videos in between the chat.
Additionally to the chat plus music, I talk about current affairs like Cricket, Music, and Fashion and Movies.
What should be improved in Sri Lankan Music Industry to set it up to reach international Standards?
In my opinion, there is a lot to be changed and upgraded. We need to think out of the frame. We need to try and experiment new music genres. And local media has a huge role to play in that.
They should appreciate new styles of music, new artists and they should encourage them and i'm sure that will help to get the best out of them.
If you are a new artist I'm telling you, Dont copy music. Always try to be unique and do your own thing. Be confidant in your talent and keep believing, one day you will get recognised and get rewarded for your hard work.
Do you produce music for others as well?
Yes. Actually I don't like to produce songs, I like to produce artists. So whoever comes to me to get a song done, will be treated that way. I take the production of a song as a project and try to build his/her personality as an artist instead of just producing a song.
 Can you explain the procedure of "How do you produce an artiste" ?
In the beginning of a production what I mainly try to do is, I start building up that person's character,develop his mindset, give him a clear idea about the music industry and prepare him for the challenge ahead. Then while working on music, melody and lyrics, I upgrade their musical brain.
Setting up the platform to absorb the project right which helps me to get the best skills out of them.
When we are done with the song, I handle the way they appear, way they maintain their image and all the promotions and marketing for the song and artiste.
 What do you have to say to your fans?
Thank you for being with me, supporting & showing me love. Really appreciate all your feedback. Like my facebook fan page www.facebook.com/darealyashan
Visit Yashan's website www.yashanonline.com
- Sanath Weerasuriya