The power of dance
By Duvindi Illankoon
Celebrating 20 years - the Arpeggio Creative Dance Academy keep alive the Kuveni-Vijaya story through dance
View(s):
Pradeep Gunarathna is drenched in sweat but he doesn't seem to notice. He flies gracefully through the air, landing with the nonchalant confidence of someone who has been dancing for a long, long time. Prince Vijaya has just been delivered news of his impending betrothal to Princess Vijayi from India, and he is making up his mind about leaving his 'savage' wife Kuveni and their children, Jeewahattha and Disala. As the young and impetuous prince, Pradeep's role in this staging of the epic Kuveni and Vijaya is vital; its why he knows the story inside out, and has rehearsed so hard and so often for this play that the role is practically second nature.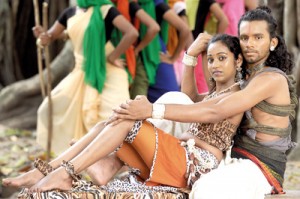 Everyone knows the bare bones of the Kuveni-Vijaya story handed down through history, he muses. "But it's the little details that make this such an epic. That's what we're bringing out through dance and music." As part of the Arpeggio Creative Dance Academy, Pradeep works under the guidance of choreographer Nilan Maligapse, and he has no qualms about going all the way for a role. "I'm bit of a history buff," he grins. "So it's not too difficult." In researching for this role the young dancer unearthed some interesting factoids about the tale of Thampanni's first human settlers. While the most well-known folklore depicts Kuveni and her compatriots as a 'demon' tribe, it was most likely the over active imaginations of the tale's creators, shares Pradeep. "They were like Vijaya and his men, except their ways were different so they were branded as 'savage'. What Vijaya, the banished prince, and his 700 men really did was to impose upon the traditions of ancient Thambapanni and mutilate a few of these in the process."
Clearly it's a role the young dancer and avid student of the performing arts relishes. It's not really traditional dance that they've tried to champion here, he points out. "We try to move as naturally, and as believably as possible." As Arpeggio finds its focal cause in contemporary dance the ancient tale might seem like an odd choice for a concert celebrating their 20th anniversary- but this production is close to their hearts. A smaller troupe of dancers, together with Maligapse, toured India in 2012 performing this very tale to strange audiences. "Here it's easy to make people understand the story when we're not speaking," explains Chathuri Priyadarshani. "But to perform to a group of people who've never heard the story before in their lives and for them to understand it-that was quite an accomplishment!"
This is Chathuri's seventh year at Arpeggio; it's certainly been quite a journey, she smiles. When they toured India she was just part of the cast but now she plays Kuveni, the headstrong, passionate woman who captures Vijaya's heart only to be later betrayed. A teacher by profession, Chathuri has taken a small break to fully focus on her role. It takes a fairly formidable constitution to deal with the long hours of rehearsals coupled with the stifling heat occasionally takes its toll on the dancer. "But it's worth it," she smiles. "When I joined I had only done Kandyan dancing in school before but now I'm actually attuned to several dance forms. Being here has made me into a versatile dancer."
Iroshana Sandaruwani who joined the troupe at the age of 9 agrees. Over the years, Iroshana has developed a taste for western dance, particularly ballet. An interior designer by profession Iroshana doesn't exactly have all the time in the world on her hands but when she can squeeze it in you'll find her dancing to her heart's content. "I love it," she says simply. For this show Iroshana will take part in the second half of the show, the 'Power of Dance' segment. This was an annul Arpeggio production from 2002 that the troupe returns to the stage with for their 20 year anniversary. A heady mix of contemporary dance forms, the Power of Dance segment is set to take the audience on a journey through different cultures and dance forms.
The music for the show is composed by Sanjeewa Paranamana who has worked with the troupe for a number of years and says he is constantly struck by their ability to communicate and connect with their audience without uttering a single word. "The music plays its part," he says. Using computer technology in its most subtle, unobtrusive form Paranama has created soaring melodies and mellow beats that tug at your heartstrings. "It's the perfect accompaniment to the story." The self-declared 'oldest person' at the show is Deeman Hettiarachchi, a sprightly man who knew choreographer Nilan from when he was a young lad. Deeman remembers a young Nilan, already "wise beyond his years", teaching him steps he had learnt at his lessons. "Who thought that decades later he'd still be teaching me dance moves!" he grins. "20 years. What a long way he has come."
'Kuveni and Vijaya; the Power of Dance 2' happens on June 8 at the Tower Hall from 6.30pm onwards. Tickets for the show are available at the venue and at Sarasavi Bookshop Nugegoda, the German Cultural Institute, and at Sudarshi Hall.