'The Grand Kandyan' ready to break into the skyline in Kandy
View(s):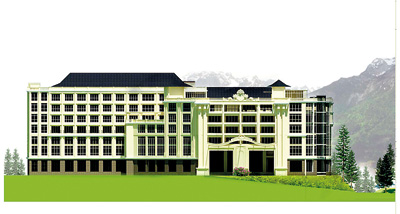 'The Grand Kandyan' is the latest addition to Kandy's star class hotel list. Almost at the final finishing stages of construction, the hotel is located close to Trinity College and is a new story unfolding in all its grandeur – a story of opulence, luxury and scenic beauty. 'The Grand Kandyan' owned by Canora Hotels (Pvt.) Ltd, has all star class facilities and offers modern amenities to suit the discerning traveller will be opening its doors by the end of August this year.
Offering an extensive selection of bed rooms ranging from Deluxe to Junior Suites, Honeymoon Suites, Suites and Presidential Suites 'The Grand Kandyan' will be ready for the holiday maker who wishes to enjoy the holiday out door as well as in doors.  'It also consists of a state of the art Spa with swimming pool plus bar area' said Susitha Samarawera, the General Manager of the Hotel.
'For those, who wish to celebrate their weddings and personal events or even corporate functions this new venue in Kandy will be ideal in time to come. It provides a main ballroom with a seating capacity of 'over 1100' guests and two separate banquet venues which are designed to seat approximately 400 guests, in each' Mr. Samaraweera explained . The F & B scene is theme oriented with Thai and Indian specialty restaurants. The coffee shop serves as the comfort zone for international travellers.