Modi Chinthanaya for a stable India
View(s):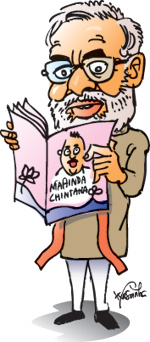 My Dear Narendra Modi,
I didn't think I would have to write to you so soon after sending you a letter a few weeks ago but I think I should, after hearing of what you have done in your first few days in office because I am worried that you may be committing some serious mistakes which might affect you in the long run.
I heard that you announced your Cabinet — and it consisted of only twenty five ministers. Now, that is a big mistake, Modi. How could India, a country with a population of more than 1.2 billion people be governed by a mere twenty five ministers?
If you cared to look at us, Modi, you would have realised the folly of this. We have only twenty million people but we have over a hundred ministers and still there is so much work to be done, so much so that most of the time Mahinda maama has to intervene and settle some dispute!
Besides, you have two hundred and eighty members of your own party and more than three hundred MPs in your coalition, from different regions and with different political views, in your government. How will you keep all these people happy over a period of five years?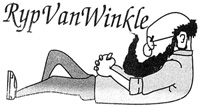 From time to time, you will get a clown emerging and trying to become a hero in the eyes of the public, for example by criticising the Secretary of the Treasury or by demanding that you halt one of your pet projects.
He will then go around the country, meeting various religious leaders and making public statements about his demands, while avoiding meeting with you. It will seem as if he was trying to save your country from imminent disaster. And, with so many MPs, you will have many such people!
The only way to stop them, Modi, is to give each of these potential jokers a cabinet ministry — and if you have to dole out over one hundred ministries, so be it. That will keep all of them happy and they will be at your beck and call and will always think twice before stepping out of line.
You shouldn't be worrying about what portfolios to give them. If you are creative enough, you can always find a way to give someone a ministry and you can always ask Mahinda maama for ideas — why, we even have a Minister for 'Botanical Gardens and Public Recreation', whatever that means!
Then, I also heard that you had ordered that ministers should not appoint family members for their personal staff to ensure that there is 'clean' government and everything is above board. Well, you might get a clean government, but I am not whether you will get a stable government, Modi.
This must have come as quite a shock to a country used to being ruled by one family for most of its modern history but I must tell you, for us over here, appointing family members not only to the personal staff of ministers but also to key official positions, forms the cornerstone of our government.
Why, Modi, the best way of ensuring that there wouldn't be a motion of no-confidence against you in Parliament, is to appoint a family member as Speaker. The best way of making sure that there is no military coup is to ensure that a family member is in charge of the Defence Ministry. Simple, isn't it?
Then, when you allow ministers the same privilege and they are able to appoint family members as 'personal staff' not only does it solve the problem of unemployment to some extent, it also keeps everyone happy and they will not dare to rebel against you. Believe me, it is a strategy that works!
I also heard that you had issued 'ten commandments' to your ministers where you have asked them to be efficient and transparent in what they do. All that is well and good, but I hope you don't really hope to follow them, because no one really does.
It is, however, useful to have such a set of policies because then you can give it a title with your name in it. Thereafter no matter what you do, be it building a bus stop or even a toilet, everyone will say it is part of your programme. And, if you are looking for a catchy slogan, how about 'Modi Chinthana'?
Anyway, Modi, I hope that at least now, you realise that you need to be careful in what you say and do as Prime Minister. And if you ever need inspiration or an example to learn the tricks of the trade, you only have to look at how things are done in this little country of ours!
Yours truly
Punchi Putha
PS: I heard that you met Mahinda maama and had talks with him, but in dealing with him too, you seem to have forgotten one important factor, regardless of how superstitious you are — that thirteen is an unlucky number!