When will they ever learn? Riots in class a blot on our schools
By Aanya Wipulasena
Nothing beats a caning, says Jaffna principal on pupil management
View(s):
This Monday (May 19) it was an ordinary afternoon at St Thomas school in Matale but then it all changed.
For the first time in the school's history a student was stabbed and seriously injured by another sparking calls for a rethink on discipline in schools.
Malith Guruge, a Grade 12 student of St Thomas, began an argument with a classmate during the lunch break on Monday. He struck his foe who flew into a murderous rage and stabbed Malith in the stomach several times till other students intervened.
Malith was rushed to the Matale District Hospital where he underwent surgery. He is still in hospital.
His attacker was arrested and the knife used in the stabbing was confiscated by Matale police.
The youth was released on surety of Rs. 100,000 by the Matale Magistrate and Additional District Judge Sampath Gamage on Friday.
It was later revealed that the two students had fought over a love affair involving a female student of a nearby school. The issue had been simmering for a few days leading up to the stabbing.
This is not the only incident where a student assaulted another person this year.
An old boy and two Grade 12 students of Gampaha Bandaranayake Vidyalaya were released on Rs. 50,000 bail by Gampaha Magistrate Tikiri Jayathilake in March after being arrested for disruption and assault on journalists who went to cover a protest organised by the students and old boys against the school principal.
The school was closed for a period of time as a result of the incident.
In February, a 16-year-old student of Sevanapitiya Madhya Maha Vidyala was arrested for assaulting the school's principal.
The principal, R. M. G. Rathnaweera, had come under attack when he had cautioned three students who had been singing on school premises (students were only allowed to sing during their music period). This had led to an argument and one of the students struck him with a wooden plank. Mr. Rathnaweera was taken to Welidanda Hospital.
"The main reasons for the increasing indiscipline in schools are teachers lacking training in the handling of students, and mismanagement of the internet. Students are not aware of the right ways to use all the information on the internet, especially on websites where they interact with other people," said the Principal of Mahinda College, Galle, Mr. Wasantha Siriwardena.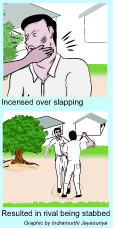 Mr. Siriwardena who has been a principal for the past 15 years, said students were more interested in starting love affairs through social media websites such as Facebook than using the sites as general social media.
"Having a good understanding about these sites is not the problem but having a narrow knowledge is," he said. "Our students should be trained to use the internet in a healthy manner."
He said if teachers lacked awareness about the uses of the internet in today's world that could lead to problems and indiscipline. Teachers should understand that the internet is freely available and that children can use it in many ways, and advise them against misuse.
The Deputy Principal of Isipathana College, Colombo J.A.S. Rajapaksha concurred that many students spent most of their time on the internet. Rather than punishing them for this, students should be advised about the benefits and risks of internet use, he said.
"This is a new era and we have a new education system. Advising students and making them understand about their mistakes is a better way of putting them in the right path," he said adding that there were still teachers who were more traditional and still implementing corporal punishment in schools.
Mr. Rajapaksha said that the Education Ministry should take steps to train all teachers on classroom management to improve student discipline.
The Principal of Jaffna Central College Mr. S. A. Ellilventhan said nothing worked as well as a good caning when disciplining students. He said counselling students was generally not successful as all teachers were not professionally trained in counselling.
"Counselling has no impact on our students but because of the Act (Corporal Punishment (Repeal) Act No. 23 of 2005) children cannot be punished either," he said.
Mr. Ellilventhan said that students from the O-Level years and upwards were more indisciplined in Jaffna because when the war ended they became exposed in too much of a rush to the internet, alcohol and mobile phones.
"Another reason is parents being away from children. Parents go abroad to work, leaving the children home. They send money to the children who do not have proper management of it and they are easily misled," he said, adding that external intrusions were also responsible for students in the area becoming more violent.
Education unions are of the view that teachers should be trained and educated to deal capably and wisely with students.
Ceylon Teachers' Union General Secretary Joseph Stalin said that parallel to this the Education Ministry should take steps to restore respect for teachers and principals.
"Today we see that children have lost respect for teachers and principals. This is because they are businesspeople in students' eyes. They see them taking bribes and money for various purposes," he said adding that as a result students are turning a deaf ear to their advice.
Additional reporting by Mahesh Keerthirathna
New body to act as teachers' aide
The Education Ministry is setting up a new committee, named Sisu Pawra, to tackle school indiscipline. Committee members will include principals, educated people from the relevant area, members of religious orders and officials from the ministry.
"They will work to protect students' rights as well as inform school authorities on ways of disciplining students. This way the teacher or principal will not be isolated," the Minister of Education, Bandula Gunawardena, said.
He said that training and educating teachers is hard and implementing Western regimes of advising students in Sri Lanka will take time.
The minister said that of late parents were taking to file human rights petitions against teachers when students were punished and when the cases were reported in the media people tended to take the students' side.
"This is reflected in every case. Parents take it personally when their child is being punished and as a result of this teachers and principals are reluctant to advise or punish students," Minister Gunawardena said.