Lanka pinpointed as winner if reefs conserved
By Malaka Rodrigo
View(s):
Stronger storms, rising seas and flooding are placing hundreds of millions of people at risk around the world – in Sri Lanka and other countries a major part of the solution lies off-shore, according to a new study that finds coral reefs reduce wave energy by 97 per cent.
The study, by scientists in the United States, estimates that 197 million people worldwide would receive risk reduction benefits from coral reefs alone and will have to bear higher costs of disasters if reefs are degraded. Sri Lanka is placed at ninth on a scale of reef-affected countries, with 4m people among the direct beneficiaries.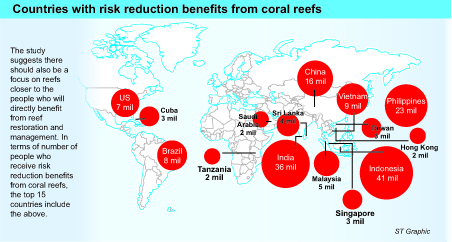 Sri Lanka experienced the damage caused by sea surges during the tsunami of 2004. Some of the worst devastation was recorded at Peraliya, near Hikkaduwa, where it is alleged that coral-mining left the area wide open and vulnerable to the tsunami wave.
In this era of climate change where the intensity of storms are increasing and sea levels are rising there is greater need of protective coral reefs as nature's defence against such natural disasters.
Sri Lankan coral expert Arjan Rajasuriya says priority should be given to protect our remaining corals reefs and let degraded reefs recover naturally.Severe coral bleaching caused by a warm oceanic current killed most of the coral colonies around Sri Lanka in 1998.
Mr Rajasuriya said the recovery of coral in the coastal areas is slower than coral far from the shore, indicating that pollution, illegal fishing methods such as dynamite and other similar factors are slowing recovery.
Artificial reef structures could be used to help the re-growing of coral reefs. As co-ordinator of the International Union for Conservation of Nature (IUCN)'s marine and coastal programme Mr. Rajasuriya recently conducted a survey on artificial reef structures in Unawatuna – a pilot project set up by IUCN and Holcim Lanka in 2008.
Under this project, several cone-shaped concrete structures were deployed underwater and left alone to naturally grow corals. IUCN has conducted two surveys so far which reveal encouraging news that new coral colonies have established themselves on the reef cones.
All the concrete reef cones were covered by calcareous material from the accumulated growth of calcareous algae, barnacles and other organisms, according to the last survey report. Growth is slow but with time more species of coral are expected to grow on the cones, says the optimistic coral expert.
Mr. Rajasuriya warns that artificial reef structures should not be set up ad hoc. Corals are made by micro-organisms called coral polyps and they need right conditions and right surface to grow.
Artificial reef structures should be placed in right places and be made heavy enough to withhold a strong storm. If the structures are light they can do much harm to existing coral when they are dragged to and fro by ocean currents.